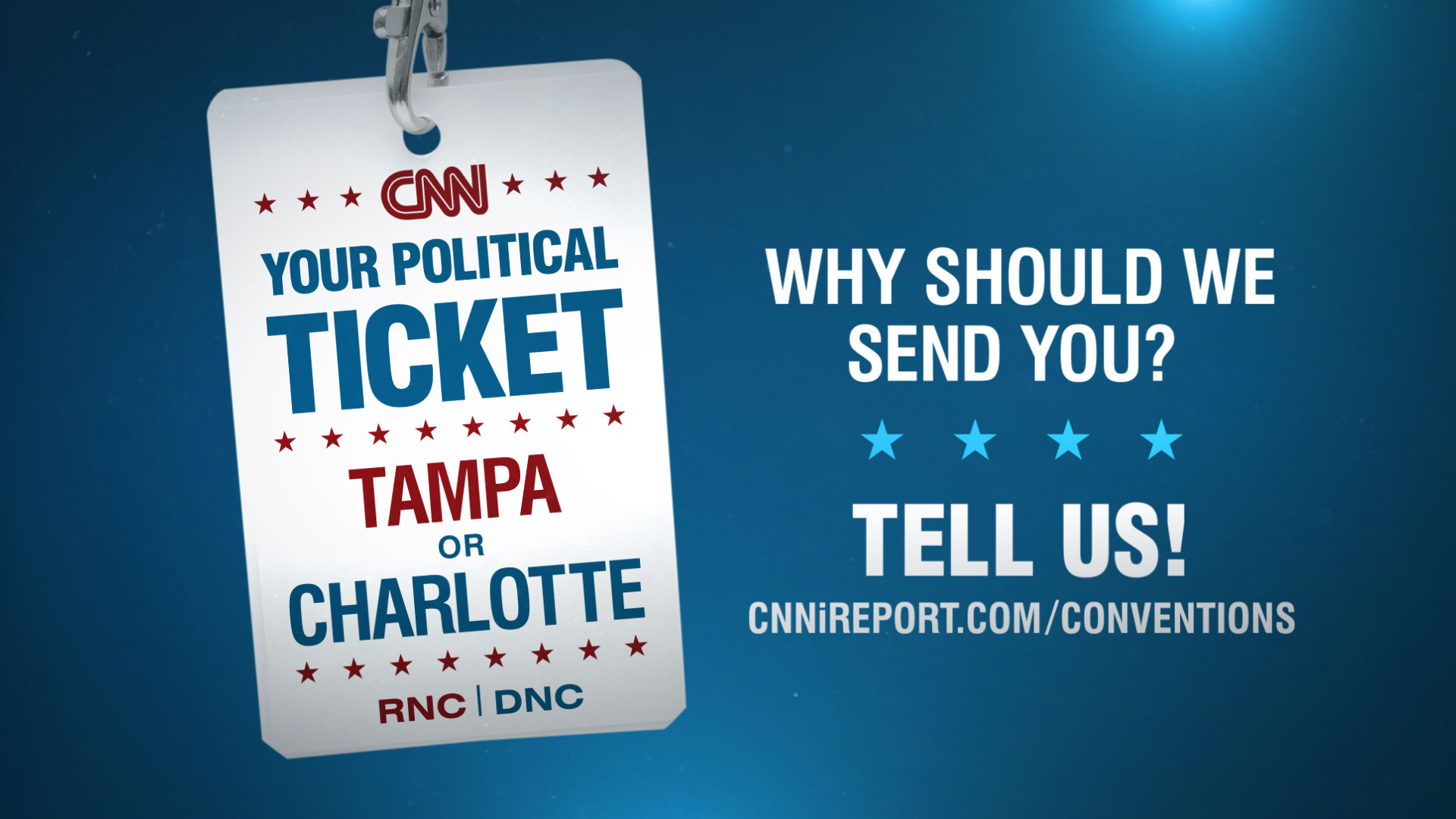 America's Choice 2012
August 17th, 2012
CNN Reveals the Winners of the 'Your Political Ticket' iReport Convention Contest
CNN revealed the winners of the 'Your Political Ticket' iReport contest, who will join the network at this year's political conventions. 
The iReporters will receive an all-expense paid trip alongside a guest to attend the one of the conventions. Three will attend  the Republican National Convention in Tampa, Florida, August 27-30, followed by the other three at the Democratic National Convention in Charlotte, North Carolina, September 3-6.
The winners will cover the conventions from a variety of angles, from first-person video commentary and on-air reporting, to photography coverage and interviews with convention attendees and local residents.
The winners are:
TAMPA – RNC
Alex Anderson
Plymouth, Minnesota
Anderson is a student at Hillsdale College, where he majors in History. He is also an intern for the Heritage Foundation, a conservative think tank based in Washington, D.C.
Matt Sky
New York, New York
Sky is a web consultant freelancer, puppeteer, and long-time contributor to iReport who tackles newsy issues with a funny twist. Sky, who considers himself an Independent, but leans liberal, says he's interested to see whether Republican voters can unite behind Republican presidential candidate Mitt Romney.
Elizabeth Lauten
Alexandria, Virginia
Lauten is a 29-year-old media consultant who has volunteered for every Republican presidential campaign since 2000. She has experience with print, broadcast, and online journalism, and says she bleeds "blood, sweat and politics."
CHARLOTTE – DNC
Omekongo Dibinga
Washington, D.C.
Dibinga is a motivational speaker and diversity consultant. A member of the iReport community since 2009, Omekongo often tackles hot political topics with engaging video commentaries.
Melissa Fazli
Yorba Linda, California
Fazli is a volunteer with "Organizing for America," Obama's grassroots campaign, and joined iReport in 2009. The mother of three is an aspiring documentarian and recent graduate from California State University of Fullerton.
Willie Harris
Ewing, New Jersey
Harris is a 23-year-old student at Mercer County Community College and mentor with inner-city youth in Trenton. The Obama supporter described going to Charlotte during the DNC as "a dream."
Check out CNNiReport.com to follow the latest iReports from the conventions.