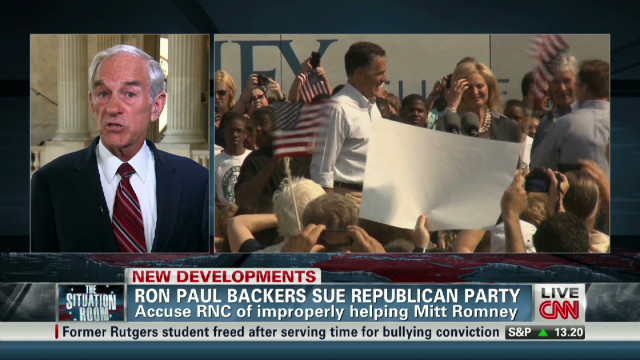 The Situation Room with Wolf Blitzer
June 19th, 2012
Ron Paul tells CNN he is not ready to endorse Romney
Today CNN's Wolf Blitzer spoke with Rep. Ron Paul (R-TX) about foreign policy and 2012 politics. This interview aired today during the 4 p.m. ET hour of CNN's The Situation Room with Wolf Blitzer.  A highlight from the interview is after the jump and a full transcript will be posted on http://archives.cnn.com/TRANSCRIPTS/2012.06.19.html
Please credit all usage of the information to CNN's The Situation Room with Wolf Blitzer
Highlight from the Interview
THIS IS A RUSH FDCH TRANSCRIPT. THIS COPY MAY NOT BE IN ITS FINAL FORM AND MAY BE UPDATED
BLITZER:  But I assume you've reconciled yourself with the fact that Romney will be your party's nominee?
PAUL:  Well, it looks like he has the delegates, yes.  But he doesn't have the control of the hearts and the minds of the people.  And right now a lot of people — a lot of delegates who are pledged to vote for Romney are actually very strong supporters of ours and will be strongly supporting us when we want to put things into the platform that say, hey, we don't need another war.  Yes, we do need to audit the Federal Reserve.  Yes, we ought to really cut spending.
So there's going to be a lot more support there than the delegate count indicates.  There will be support for our cause of liberty and for what we've been doing for a good many years.
BLITZER:  Your son, Senator Rand Paul, has endorsed Romney.  I take it you're not yet ready yourself to endorse Romney, are you?
PAUL:  No.  Not ready.
BLITZER:  You're not ready.
PAUL:  No way.
BLITZER:  When you say no way, what's stopping you?  Because you obviously appreciate the fact he's going to have 1,144 delegates that will put him over the top.
PAUL:  What's he going to achieve?  I think it's legitimate for us to continue to debate.  I know they don't want the debate at the convention.  Everything has to be smooth and proper.
But, you know, I helped pay for the convention because the taxpayers pay Republicans $18 million plus.  And Obama gets $18 million plus to have these grand parties.  I think we should be serious and discuss differences.
###