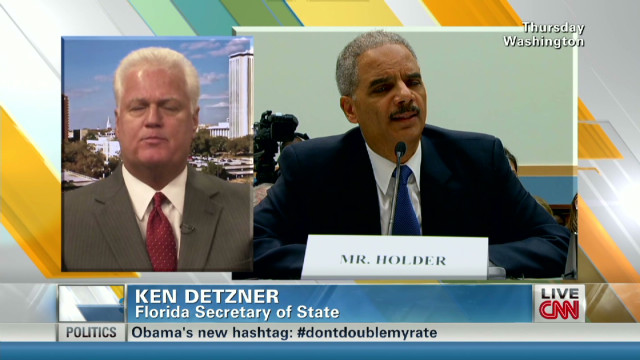 Starting Point
June 8th, 2012
FL Sec. of State on voter purge: Illogical for noncitizens to have more rights than felons
Ken Detzner, Florida Secretary of State, joins CNN's Soledad O'Brien to talk about Florida's efforts to make noncitizens ineligible to vote in the upcoming presidential election. O'Brien and the Starting Point panel ask about the timing of the purge and the potential impact on politics and race.
When O'Brien asks if the state's purging is in accordance with The Voter Registration Act, Detzner says, "Well, the law does not exclude us from eliminating noncitizens from the list. We at the present time during this 90-day period we do eliminate individuals that are felons, people that are mentally incompetent and those deceased. It seems an illogical question that those individuals might have more rights or the individuals that are noncitizens would have more rights than somebody who is a felon."
Starting Point with Soledad O'Brien airs weekday mornings from 7-9am ET on CNN.