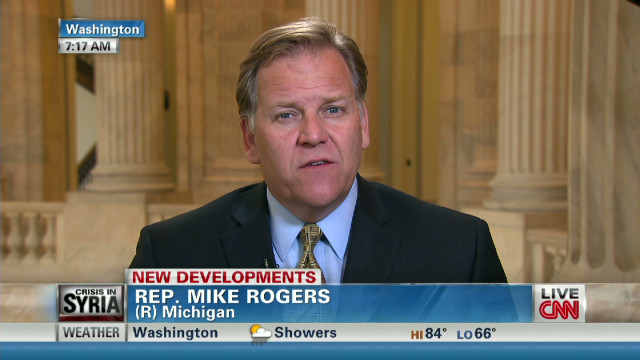 Starting Point
May 30th, 2012
Rep. Rogers on Syria: 'We need to put pressure on Russia;' don't send armaments
Rep. Mike Rogers (R-MI), Intelligence Committee Chairman, talks Syria strategy, including being more aggressive with Arab League partners, putting pressure on Russia and not arming the opposition at this point.
I would be more aggressive with our Arab League partners. I'm not sure arming is the right answer here mainly because of we're just not exactly sure who the bad guys are, who the good guys are right now in Syria. So you don't know who you're giving weapons to."
He continues, "Well, you know, a big part of it is, [Syria is] Russia's last toehold in the Middle East and I think there is attachment to the notion that… [Assad's] going to win and they're going to have the toehold in the Middle East through Syria.  We need to change that dynamic.  I think we need to convince our Russians this is not in their best interests, that some of this slaughtering of women and children is going to get on them as well, and that's just not the place they want to be in the world. And they need, again a little public pressure, a little bilateral effort from the United States and others, other European allies, I think can turn Russia on what's happening.  I don't think they want to be on the wrong side of a slaughter in a town like Houla.  We need to put the question to them, where do you want to be when this is over?  We'd like you to be with the rest of the world.  They also have huge weapon sales going into Syria, another big problem we have to deal with."
Starting Point with Soledad O'Brien airs weekday mornings from 7-9am ET on CNN.