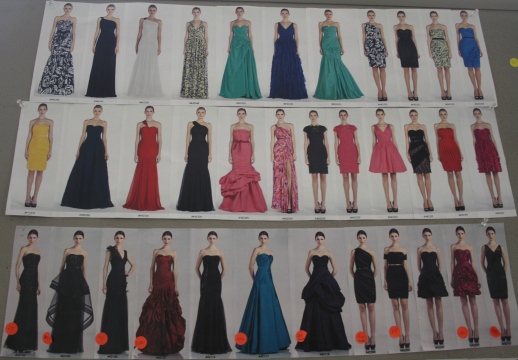 CNN Preview
May 11th, 2012
PREVIEW: CNN International Programme Information Weeks 21 & 22
Wednesday 23 May at 1030 BST / 1130 CET and 1730 BST / 1830 CET
Saturday 26 May at 0530 BST / 0630 CET and 1930 BST / 2030 CET
Sunday 27 May at 1230 BST / 1330 CET
Duration: 15 minutes
Profiling some of the most influential women from across the globe, each month 'Leading Women' meets remarkable professionals from a variety of fields, including business, the arts, sport and culture.
In May, the programme meets businesswoman Kristin Skogen Lund, director of Nordic activities and Digital Services at Norwegian telecommunications company, Telenor. Following an illustious management career at Lever Europe and Coca Cola Beverages Sweden, Lund was hired by Norway's leading online service at the time; SOL, and made CEO within a year. In 2011, she was cited by Fortune magazine as one of the "50 Most Powerful Women in Business".
Also this month, 'Leading Women' profiles Philippine-born, LA-based fashion designer Monique Lhuillier, who captured the bridal couturier industry with her signature design sensibility and has become synonymous with refined design, meticulous construction and unparalleled glamour. Since launching in 1996, the designer has expanded Lhuillier & Company from boutique design house to luxury lifestyle brand; one that is internationally recognised as one ofAmerica's foremost couture bridal and ready-to-wear brands.
Thursday 24 May at 1030 BST / 1130 CET and 1730 BST / 1830 CET
Saturday 26 May at 0830 BST / 0930 CET and 2200 BST / 2300 CET
Sunday 27 May at 1730 BST / 1830 CET
Duration: 30 minutes
With the clay court season in full swing, May's 'Open Court' is from Paris, as some of the best players in the world are gearing up for the second slam of the year at Roland Garros – the 2012 French Open.
Leading the show is one of the biggest names in tennis, world number 2 Maria Sharapova, who meets Pedro Pinto on the sidelines of the Madrid Open. The star, who has won every slam except the French Open, is playing very well on clay and believes she can win the only title she is missing.
Host Pat Cash catches up with Gilles Simon in Madrid, as the world number 11 and one of four French players in the top 20 prepares for one of the biggest slams of his life. Current world number 6 David Ferrer, the Spaniard who's known on tour as "the running man" and loves competing on the clay, also meets Cash on the sidelines in Barcelona, and showcases some of his signature shots.
Also in the show, Pinto catches up with former world number one and 2008 French Open champion, Ana Ivanovic, in Madrid. The Serbian player is feeling more optimistic than ever, as she is training with a solid coaching team and her ranking is improving.
cnn.com/opencourt
@cnnopencourt
@Therealpatcash
facebook.com/cnnopencourt
Thursday 07 June at 1030 BST / 1130 CET and 1730 BST / 1830 CET
Saturday 09 June at 0830 BST / 0930 CET and 2200 BST / 2300 CET
Sunday 10 June at 1730 BST / 1830 CET
Duration: 30 minutes
This month, 'Living Golf' visits the Olympic Country Club in San Francisco – venue for this year's US Open Championship. Host Shane O'Donoghue previews the course known as the 'Graveyard of Champions', by playing some of the iconic holes which saw the likes of Ben Hogan, Tom Watson and Gary Player miss their chance of victory. The programme also speaks to former US Open champions Scott Simpson and Billy Casper.
With more than 9000 hopefuls fighting for a place in the US Open, Living Golf goes to Walton Heath in Surrey to follow some of the big names and rank outsiders trying grab one the last spots available through final qualifying.
And in the second instalment of 'Living Golf's 'Hotshots' series, Luke Donald shows CNN how to play the perfect bunker shot, with playback in super slo-mo.
cnn.com/livinggolf
@shaneodonoghue
Wednesday 06 June at 1030 BST / 1130 CET and 1730 BST / 1830 CET
Saturday 09 June at 0530 BST / 0630 CET and 1930 BST / 2030 CET
Sunday 10 June at 1230 BST / 1330 CET
Duration: 30 minutes
Celebrate with CNN, as 'Inside the Middle East' marks its 100th episode in June with a special look at education –  focusing on the ways Egypt, Lebanon, and the United Arab Emirates are developing their future generation of leaders.  
From Egypt's bustling capital, Cairo, to the coastal city of Alexandria, host Rima Maktabi looks at the modern Library of Alexandria ten years after it was reopened, and meets several young Egyptians who explain the challenges of studying – or simply learning how to read – in a nation currently undergoing a rocky transition to democracy.
The programme meetsEgypt's "space kid" Amr Mohamed, whose passion for science and space is unique for a region that has no real impact on the field of space sciences. The 18-year old Egyptian beat students all over the world in an international competition to design a science experiment to be performed in space.
In the UAE's capital, Abu Dhabi, 'Inside the Middle East' meets the world famous Iraqi musician, Naseer Shama, a man devoting his life to teaching young people the history and melodies of the oud, a traditional Middle Eastern guitar heard in most songs across the region.  
And Maktabi travels toBeirut, and learns why most Lebanese students are not taught some of the basic history of their nation's 15-year civil war.
@rimamaktabi
insidethemiddleeast.blogs.cnn.com/
facebook.com/CNNIME