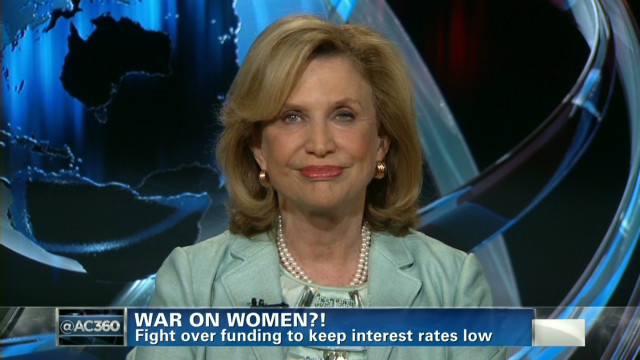 Keeping Them Honest
April 27th, 2012
AC360 invu with Rep. Carolyn Maloney & "the War On Women"
On tonight's AC360°, Anderson spoke with Rep. Carolyn Maloney, D-NY, following Friday's vote to keep interest rates on government-backed student loans from doubling. Most Democrats, including Maloney, opposed the move, blasting Republicans for raiding a preventative care fund in President Obama's health care law, in order to pay for their bill, accusing those across the aisle of going after women, yet again.
But when Anderson pointed out Democrats, including Maloney, dipped into that very same fund to pay for an extension of the payroll tax cut earlier this year, things got a little heated.  Additionally, the prevention fund does not appear to specifically target women's health, rather, it paints in much broader brushstrokes. As Maloney points out, the preventative measures funded in the health care bill do benefit women and their families.
But if Democrats have raided this fund before, and if the fund does not specifically target women's health programs, can you really call what Republicans did Friday a "war on women"?