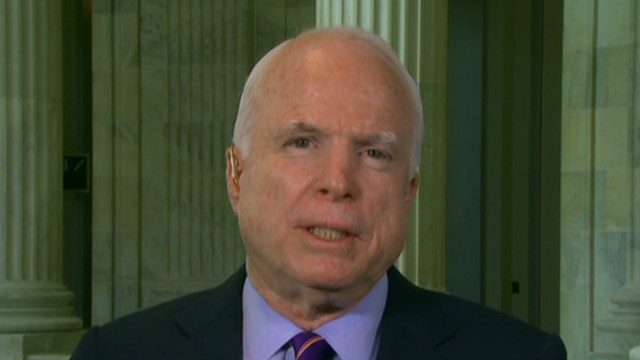 Amanpour
April 17th, 2012
Sen. McCain on Syria: "I wish that every American could have a chance to be moved as I was…"
On Tuesday, April 17, U.S. Senator John McCain (R-AZ) spoke with CNN's Christiane Amanpour in a live interview about the broken ceasefire in Syria.  He said that he feels the United States has the support of other nations in the Gulf region to lead a military intervention to stop the violence against Syrian civilians by the regime.  McCain's comments included moving remarks  about his experience visiting refugee camps for Syrians fleeing the war zones:
"I went to the refugee camps.  I heard the stories, the murder, the torture, the rapes.  I wish that every American could have a chance to be moved as I was and I'm a pretty tough guy.  This has got to be brought to a stop.  We can do that.  And everybody will give you reasons why we can't.  I know America can with other nations," McCain said.
This edition of Amanpour also included an interview with U.S. Ambassador to the United Nations Dr. Susan Rice.  The full transcript of this program may be found here.
Amanpour airs weekdays on CNN International at 3:00pm with a replay at 5:00pm Eastern in the U.S.  and at 21:00 CET, with a replay at 23:00 CET.  This program will also be available via www.cnn.com/amanpour on Wednesday, April 18.
###