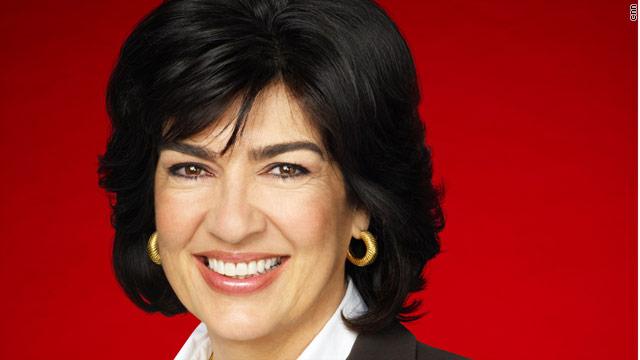 Christiane Amanpour
April 12th, 2012
Christiane Amanpour Returns to CNN Worldwide
AMANPOUR debuts Monday, April 16, 3:00pm Eastern on CNN International
Christiane Amanpour will host a new daily foreign affairs program on CNN International that will launch on Monday, April 16, it was announced today.
Beginning with the program's launch, the 30-minute daily broadcast of Amanpour, will air weeknights at 3:00pm, and replay at 5:00pm.  All times are Eastern.
"We are delighted to have Christiane back at CNN," said Tony Maddox, executive vice president and managing director for CNN International.  "Christiane's sophisticated, incisive journalism is needed now, more than ever to add context and depth to the world's biggest news and stories," Maddox said.
In the unique relationship announced in December, Amanpour's primary role is as global affairs anchor for ABC News blazing a trail in international reporting for American viewers, in addition to her new program on CNN International reaching a vast global audience.  She will continue her courageous reporting in war-torn countries for all ABC News programs, platforms and online, including her unmatched ability to land major and rare exclusive interviews with world leaders – including last year's only interviews with Moammar Gadhafi and Hosni Mubarak. As global affairs anchor for ABC News, her ongoing assignments range from the uprisings in the Middle East to Iran's nuclear program to the Eurozone crisis.  Amanpour will also report on new conflicts, natural disasters and humanitarian crises, anchor four primetime specials on ABC and continue Around the World with Christiane Amanpour, her recently launched video series for ABCNews.com and Yahoo News.
"This is an exciting time to have this unique role," Amanpour said.  "I am thrilled to come home to CNN, where I have reported for so many years – and combine this role with the reporting that I will continue for ABC News.  Viewers in America and around the world recognize that we live in a globally-inter-connected world – from the 'Arab Spring,' to the economic challenges faced by Europe and the U.S., to security challenges everywhere.  We are all in this together.  And, we will look at all of these events and the people moving these events, from all angles, without fear, nor favor," she continued.
Liza McGuirk is the executive producer for Amanpour.  Previously, McGuirk was the founding executive producer for CNN's global affairs program FAREED ZAKARIA GPS.  Following that, she executive produced CNN's In the Arena.  Prior to joining CNN, McGuirk was a producer with CBS' 60 Minutes.
"Our ambition with this program is to present world leaders as well as fresh voices on the major issues of our times, utilizing Christiane's experience and passion for international journalism," said McGuirk.  "The year 2012 is also an historic election year for so many nations – the U.S., Europe, and the Middle East – and, the 'Arab Spring,' the Occupy movements, the potential resolution for the war in Afghanistan, all make this a fascinating time in our history, and for developing a program like this one," McGuirk said.
As a companion digital presence to the program, CNN will also launch Amanpour.com.  Users of CNN.com/international and Amanpour.com will be able to view excerpts of the daily broadcasts of Amanpour.
Amanpour.com and CNN.com/international will have editorial contributions from Christiane Amanpour, the show team, and in-depth insights and commentary from a wide array of foreign policy experts.
Additionally, viewers and users can interact with Amanpour via Twitter and Facebook for show guest updates, breaking international news, and more.  And, Amanpour herself will curate a daily dose of the most vital digital content that she is following to stay connected with the pace of change for the day's top stories.  Amanpour show social media feeds will be available in both Spanish and English languages.
Also on April 16, CNN International will debut CNN NewsCenter, a half-hour news program that will air weekdays at 3:30pm Eastern. Anchored by CNN's Isha Sesay and broadcast from CNN's worldwide headquarters in Atlanta, CNN NewsCenter will provide viewers with a complete picture of the day's global news.  CNN NewsCenter will continue the editorial pace set by Amanpour, and offer the latest updates and frontline perspectives on stories that matter to CNN International's viewers around the world.  Sesay, who also appears daily on Anderson Cooper 360°, will bring a passionate and experienced voice to the program.
CNN Worldwide, a division of Turner Broadcasting System, Inc., a Time Warner Company, is the most trusted source for news and information. Its reach extends to nine cable and satellite television networks; one private place-based network; two radio networks; wireless devices around the world; CNN Digital Network, the No. 1 network of news Web sites in the United States; CNN Newsource, the world's most extensively-syndicated news service; and strategic international partnerships within both television and the digital media.
-30-
VIDEO:
IMAGES:
http://imageselect.turner.com/download/downloadimages.aspx?id=41c84a33-8b65-4840-9dfb-299ed1bf7957