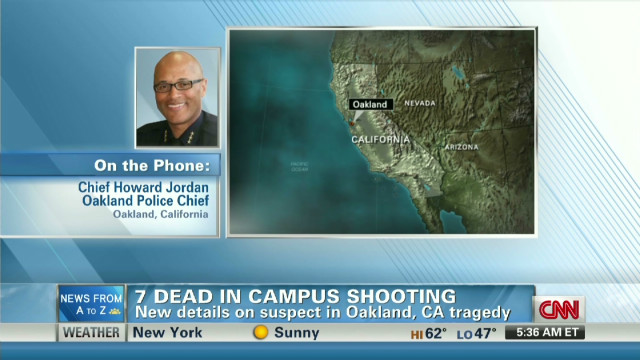 Zoraida Sambolin
April 3rd, 2012
Oakland Police Chief: School shooter's target was female administrator
Oakland Police Chief Howard Jordan joined Early Start with Ashleigh Banfield & Zoraida Sambolin to discuss the shooting rampage at Oikos University in Oakland, CA. One Goh, the 43-year-old suspect, opened fire allegedly because he was angry at a female administrator over dismissing him.
Jordan says, "He casually walked out and left in one of the victim's vehicles."
He continues, "He came back into the classroom after he left, went to another location, and began shooting again because he realized that there were other students hiding in the adjacent classroom. He began shooting into that classroom again. Then left out the back, not through the same entrance that he came in."
Early Start with Ashleigh Banfield and Zoraida Sambolin airs weekday mornings from 5-7a ET on CNN.