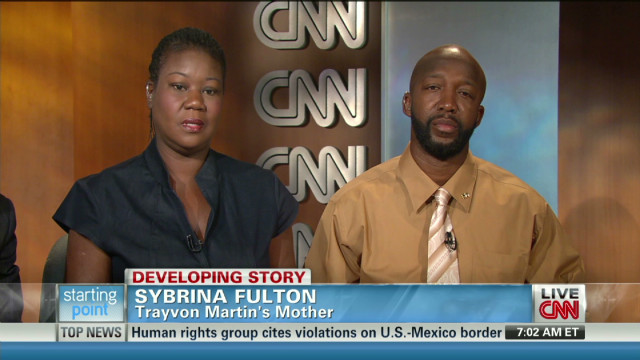 Starting Point
March 28th, 2012
Trayvon Martin's parents talk to CNN's Soledad O'Brien; lawyer weighs in on 'smear attempt'
On Starting Point with Soledad O'Brien, Trayvon Martin's parents, Tracy Martin and Sybrina Fulton, explain what questions they have about their son's case for the special prosecutor and discuss George Zimmerman's account. Their attorney Benjamin Crump weighs in on the leaking of Trayvon's school record.
Tracy Martin asks, "Why was our son gunned down? Why wasn't this individual arrested? Why was evidence not processed? Why wasn't the right thing done from the beginning in this case?"
Crump says, "Whoever is leaking it, it is a smear attempt, to get us off focus, to demonize and blame the victim, Soledad.  The real issue here is George Zimmerman, an armed vigilante disobeyed the police that night, and starting to pursue Trayvon to have this what we now know fatal encounter, and that is the important thing.  Nothing matters but what happened on February 26.  We know Trayvon was never arrested, never suspended for anything violent and never been suspended for anything criminal. And if he experimented with marijuana with his friends, even that there is irrelevant, and it is just the police trying to make him look bad while they say oh, don't listen to what Zimmerman did.  Forget that 911 tape.  Forget he disobeyed us.  And this armed vigilante can't get away with this because what message does that send to the world."
Starting Point with Soledad O'Brien airs weekday mornings from 7-9am ET on CNN.