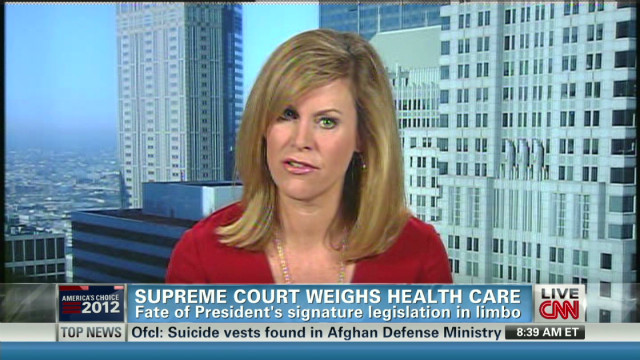 Starting Point
March 28th, 2012
Pres. Obama rep. on health care legislation: The law is constitutional
Stephanie Cutter, President Obama Deputy Campaign Manager, joined Starting Point with Soledad O'Brien to discuss the Supreme Court's debate over the administration's health care legislation.
Cutter says, "So what happened yesterday is not necessarily foretelling of where the court is going to come out. Certainly we believe the law is constitutional, and for good reason. It is activity in our economy when someone chooses not to get health care because they pass along the cost to people like you and me who do have health care. And there are real consequences if the court doesn't uphold the law. And those consequences are everything from parents not being able to put their adult children on their health care or kids with preexisting conditions being discriminated against from insurance companies.
When CNN anchor Soledad O'Brien asks what happens if the Court finds the legislation unconstitutional, Cutter responds, "We don't want to engage in hypotheticals right now. We believe the law is constitutional. I did explain some of the consequences of what would happen if the court didn't find it constitutional. And that's real impacts in people's lives, because people are already benefiting from this law. What do you say to seniors getting 50 percent discount on prescription drugs that they no longer get that discount? So those are consequences that we'll see."
Starting Point with Soledad O'Brien airs weekday mornings from 7-9am ET.