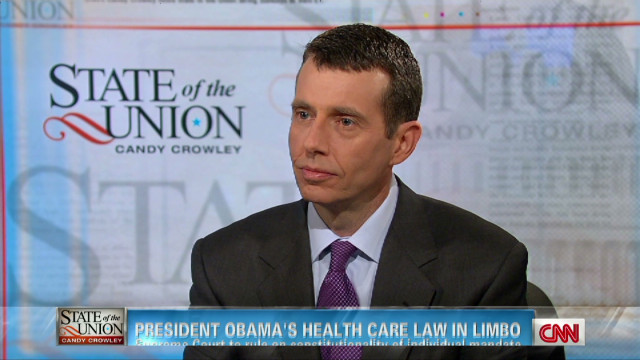 State of the Union with Candy Crowley
March 25th, 2012
White House Senior Adviser: This Republican primary at some points has been more of a circus show, a clown show
Today on CNN's State of the Union with Candy Crowley, senior White House adviser David Plouffe spoke with CNN's Candy Crowley about the upcoming Supreme Court decision on health care, 2012 politics, the Trayvon Martin case and more.
MANDATORY CREDIT: CNN's "State of the Union"
Highlights from Full Interview – Plouffe on 2012 GOP Race
THIS IS A RUSH FDCH TRANSCRIPT. THIS COPY MAY NOT BE IN ITS FINAL FORM AND MAY BE UPDATED
CROWLEY:  Let me play for you – this is the Trayvon Martin case.  Let me play for you the reaction from a couple of Republican candidates.  Now, mind you, all of them said this is a tragedy and we need to look into this, this shouldn't have happened.  But in referring to the president saying if I had a son, he would look like Trayvon, a couple of – a couple of the Republican candidates.
(BEGIN VIDEO CLIP)
NEWT GINGRICH, FORMER HOUSE SPEAKER:  Is the president suggesting that if it had been a white kid who had been shot, that would be OK because he wouldn't look like him?  It's just nonsense.  Dividing this country up – it is a tragedy this young man was shot.
RICK SANTORUM, FORMER U.S. SENATOR:  And then, this, it is – again, politicizing it.  This is, again, not what the presidents of the United States do.  What the president of the United States should do is try to bring people together, not use these types of horrible tragic individual cases to try to drive a wedge in America.
(END VIDEO CLIP)
CROWLEY:  Your reaction?
PLOUFFE:  I don't think there's very many people in America that would share that reaction.  You know, this is – this Republican primary at some points has been more of a circus show, a clown show.  And those two comments are really irresponsible.  I would consider them reprehensible.  I think the president spoke movingly about this tragedy, as a father, made it clear that there's an investigation going on.  So I think those comments were really hard to stomach, really, and I guess trying to appeal to people's worst
Highlights from Full Interview – Strategic Oil Reserve
THIS IS A RUSH FDCH TRANSCRIPT. THIS COPY MAY NOT BE IN ITS FINAL FORM AND MAY BE UPDATED
PLOUFFE:  Well, again, I don't want to – I don't want to get into that decision.  But –
CROWLEY:  The reason I ask, though, is that you all have pretty much argued it's not a supply problem, that it's the market and it's the speculation, it's what's going on in the Middle East. And yet you're considering opening up the Strategic Oil Reserve.
(CROSSTALK)
PLOUFFE:  What I'll say is we're not taking that off, that option off the table.  But listen, there are supply disruptions right now in places like Sudan.  You still have oil not at its peak in places like Libya.  Obviously the sanctions are working, the crippling sanctions the president has put in place are working in the Middle East and strangling the Iranian economy, but there is no doubt that what we have to do in this country, we have to use less oil.  The president, not with Congress, with the auto makers, has put in place fuel efficiency standards.  What does that mean?  Middle of next decade, average car in this country, 56 gallons – 56 miles a gallon.  Going to save the average family $8,000 and will save us billions of barrels of oil.
###