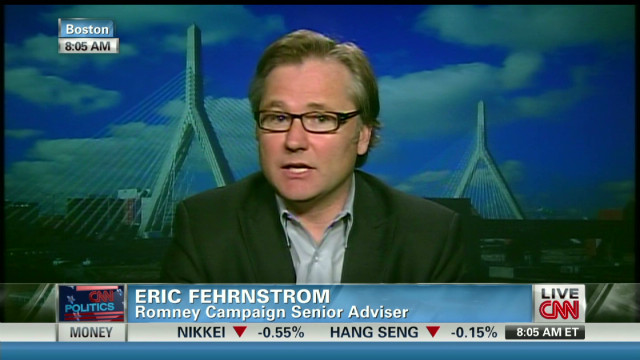 Starting Point
March 21st, 2012
Romney advisor: 'Big win in a big state;' 'you hit a reset button for the fall campaign'
On Starting Point with Soledad O'Brien, Mitt Romney Senior Advisor Eric Fehrnstrom talks Illinois primary and Romney's decision to step aside in 2008 election.
Fehrnstrom says, "It was a big win in a big state…. You have to wonder where his opponents feel that they can win enough delegates to overtake what is really a commanding lead in the delegate count."
When CNN anchor Soledad O'Brien asks about Romney stepping aside for McCain in 2008 and what happens if the other candidates don't step aside for Romney this year, he replies, "At the time, John McCain did not have the delegates he needed to clinch the nomination but he was clearly on a path to doing that. The math was very challenging for Mitt Romney. And he made the decision that at that time, the country being at war in Iraq, it was important for John McCain to begin to rally the party behind him so he could prepare himself for the fall election campaign. Mitt Romney stepped aside. Now, in Rick Santorum and Newt Gingrich, these are both decent, honorable men who have run good campaigns. They are good Americans. They are good Republicans. And ultimately, I'm confident they'll make a decision that's not only right for their party, but right for them."
He continues, "I think you hit a reset button for the fall campaign. Everything changes. It's almost like an Etch a Sketch. You can kind of shake it up and we start all over again."
O'Brien questions this thinking and CNN senior political analyst Ron Brownstein adds, "You get a second look, there's no question about it. But it is not a complete, I think, blank slate."
Starting Point with Soledad O'Brien airs week mornings from 7-9am on CNN.