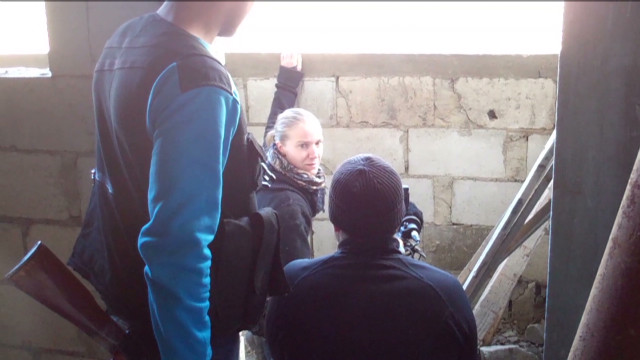 Arwa Damon
March 5th, 2012
CNN's unfiltered look at reporting inside Syria
72 Hours Under Fire: CNN's Unfiltered Look at Reporting from Inside Syria
72 Hours Under Fire features CNN correspondent Arwa Damon; airs on CNN/US Sunday, March 11 at 8pET & PT
Homs, Syria – considered one of the most dangerous places CNN has ever covered – is at the heart of a one-hour special documenting the challenges and dangers faced by a CNN team while on assignment there. As told by the journalists who risked their lives to get into Homs and the CNN news executives tasked with keeping them safe, 72 Hours Under Fire gives viewers an inside look at the complexities and risks involved in getting the story out of Syria.
72 Hours Under Fire airs Sunday, March 11 at 8 p.m. and 11 p.m., and Saturday, March 17 at 8 p.m. and 11 p.m. Eastern and Pacific on CNN/US.  It premieres on CNN International Friday, March 9 at 3 p.m., and replays Saturday, March 10 at 4 a.m., 3 p.m., and 9 p.m., and Sunday, March 11 at 6 a.m., all times Eastern.
"Homs is as challenging an editorial operation as we have encountered," says Tony Maddox, executive vice president and managing director of CNN International.
The experienced team CNN sent into Homs included Beirut-based correspondent Arwa Damon, photojournalist Neil Hallsworth and security risk advisor Tim Crockett. 72 Hours Under Fire chronicles their journey into and out of Homs, the dangers they faced while newsgathering and reporting there and why this assignment was different than previous ones. Damon, Hallsworth and Crockett are interviewed by CNN anchor Michael Holmes, who also narrates the documentary.
"We are taking the unusual step of covering our journalists' experience in Homs because it is another piece of the untold story in Syria," says Mark Whitaker, executive vice president and managing editor of CNN Worldwide. "The fact that the Syrian government doesn't want the world to know what is happening in places like Homs, and the enormous effort and courage it has taken for Western journalists to cover the brutal crackdown there, is part of the story. We thought it was important to take our viewers behind the scenes to see and feel that part of this conflict, too."
Since the unrest began in March of last year, thousands of civilians in Syria have been killed by Syrian forces. The indiscriminate shelling in the opposition stronghold of Homs by the Syrian government made it incredibly difficult for the CNN team to reach their desired destination. Maddox, who admits to feeling "anxious" about this assignment, says the team's mission depended upon a "fragile series of connections" that took a great deal of research and time to put into place.
"I actually wrote a letter home for the first time, to my family…when this trip was going to materialize," says Damon. "There was a lot of unknown going in and sometimes you get that gut feeling. I felt in this particular case – on this particular trip – I had to do it."
Helped by opposition activists to reach the besieged Homs neighborhood of Baba Amr, Damon and crew visit a makeshift clinic that lacked the equipment and expertise to help many of their patients. The clinic, which Damon says is "bombarded all the time and constantly under risk," is staffed by two doctors and around 20 volunteers, each of whom has undergone just 15 days of training. The crisis in Homs is palpable, and the number of wounded civilians is overwhelming.
When asked about her motivation for going on this assignment, Damon speaks of the importance of physically being on the ground in Homs in order to fully understand what residents are experiencing.
"You have to be in it – seeing it, smelling it, listening to it – so that at the end of the day you can do justice to what the people are suffering. And [the activists] know by having us there, it's going to help tell that story."
72 Hours Under Fire also reveals the tough choices news executives like Maddox were constantly having to make, including pulling the team out of Syria before Damon wanted to leave.
CNN has extensively covered Syria throughout the year-long uprising. CNN has had four correspondents – some who have made multiple trips – report from inside Syria for all CNN networks and platforms. Many programs across CNN's networks have focused on Syria, including Anderson Cooper 360°, which has covered Syria in more than 50% of their shows since March 2011. CNN is committed to Syria and will continue to find ways to bring this story to viewers.
CNN Worldwide, a division of Turner Broadcasting System, Inc., a Time Warner Company, is the most trusted source for news and information. Its reach extends to nine cable and satellite television networks; one private place-based network; two radio networks; wireless devices around the world; CNN Digital Network, the No. 1 network of news Web sites in the United States; CNN Newsource, the world's most extensively syndicated news service; and strategic international partnerships within both television and the digital media.