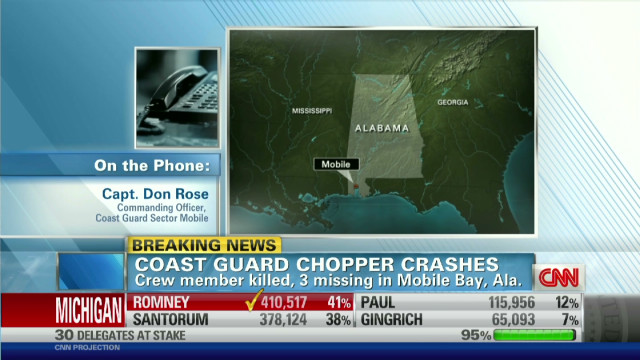 Zoraida Sambolin
February 29th, 2012
Coast Guard captain update on Alabama chopper crew search – Early Start
Coast Guard Capt. Don Rose speaks with CNN's Zoraida Sambolin on the latest in a search for 3 crew members missing after a chopper crash in Alabama.
Rose says, "We have multiple boats on scene, divers, we have aircraft up trying to find the three remaining crew…. Hoping that we can find the last three crew members of this helicopter right now."
He continues, "They were on a training mission shortly after sunset. We lost communications with the helicopter and immediately began trying to restore communications and dispatch resources out to find what they were doing. They were training with two other boats at the time of the accident…. The cause of the accident is going to be investigated. The fog has hampered our search efforts a little bit."
Early Start with Ashleigh Banfield & Zoraida Sambolin airs week mornings from 5-7am ET on CNN.