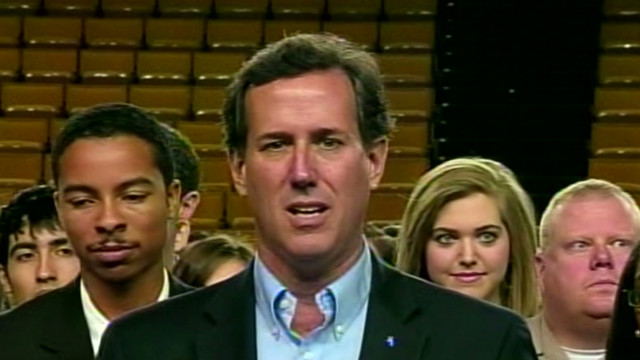 CNN
February 9th, 2012
Santorum on his tax returns: we can get them out in the next couple of days
GOP presidential hopeful Rick Santorum spoke with CNN's John King about women in combat, releasing his tax returns and insurance coverage for contraception.
Please credit all usage of the interview to CNN's John King, USA

Highlight from Full Interview
THIS IS A RUSH FDCH TRANSCRIPT. THIS COPY MAY NOT BE IN ITS FINAL FORM AND MAY BE UPDATED
KING:  I'm looking forward to the day I can stop asking this question.  And we've been through this for a while. When are we going to see see your tax returns?
SANTORUM:  Oh, pretty soon.  You know, I — I — I had them — I had to go to and actually have an accountant take a look at them to make sure that I had all the papers that I was supposed to have.  And I'm hopeful tomorrow that I'm actually going to meet with that guy and then we can get them out in the next couple of days.
KING:  Get them out in the next couple of days. OK. Let me, here's another one for you.  A President Santorum might face.  The Pentagon says it's easing roles on women taking a front line role — some front line roles in combat, as medics, as people involved in communications, perhaps opening the door to a broader role, ultimately, for women in combat.
A good idea or a bad idea?
SANTORUM:  I don't — you know, look, I — I want to create every opportunity for women to be able to serve this country.  And — and they do so in an amazing and wonderful way.  And they're a great addition to the — and have been for — for a long time — to the — to the armed services of our country.
But I — I have — I do have concerns about women in front line combat.  I think that could be a — a very compromising situation where — where people naturally, you know, may do things that may not be in the interests of the mission because of other types of emotions that are involved.
And I think that's probably, you know, it already happens, of course, with — with the camaraderie of — of men in combat.  But it's — but it's — I think it would be even more unique if — if women were in combat.  And I think that's probably not in the best interests of men, women or the mission.
###