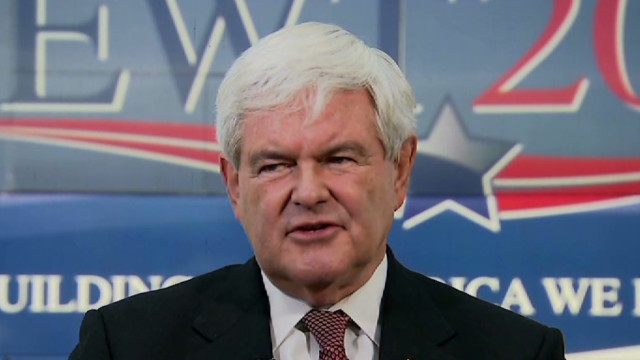 CNN
January 26th, 2012
Gingrich wrong about his claim offering ABC character witnesses
CNN's chief national correspondent follows up on a claim Newt Gingrich made about offering ABC character witnesses to deny his ex-wife's allegations is false.
Full Transcript from King's interview with Gingrich on Tuesday, Jan. 24: http://archives.cnn.com/TRANSCRIPTS/1201/24/jkusa.01.html
Please credit all usage of the interview to CNN's John King, USA
Highlight from Full Program
THIS IS A RUSH FDCH TRANSCRIPT. THIS COPY MAY NOT BE IN ITS FINAL FORM AND MAY BE UPDATED.
KING: Yesterday, I asked the speaker about ABC's insistence that no such character witnesses were offered.
(BEGIN VIDEO CLIP)
GINGRICH: Oh, that is just plain baloney. I mean, I will check with R.C. Hammond in a minute. But if they're saying that, they're not being honest, because they said explicitly the opposite. So I will check with R.C., because he was briefing me on this the whole way through. We had several people prepared to be very clear and very aggressive in their dispute about that. And they weren't interested.
(END VIDEO CLIP)
KING: You heard the speaker there. He said, we had several people prepared, and they were not interested.
Well, tonight, after persistent questioning by our staff, the Gingrich campaign concedes now Speaker Gingrich was wrong both in his debate answer and in our interview yesterday.

Gingrich spokesman R.C. Hammond says the only people the campaign offered to ABC were the speaker's two daughters from his first marriage.
Proof tonight Speaker Gingrich perhaps should worry more about Mitt Romney and Florida. Our new CNN/"TIME"/ORC poll shows a statistical dead heat here. The former Massachusetts governor has 36 percent among Florida Republicans likely to vote in Tuesday's primary, Speaker Gingrich 34 percent support, close, but the momentum is clearly with Governor Romney at the moment.
###