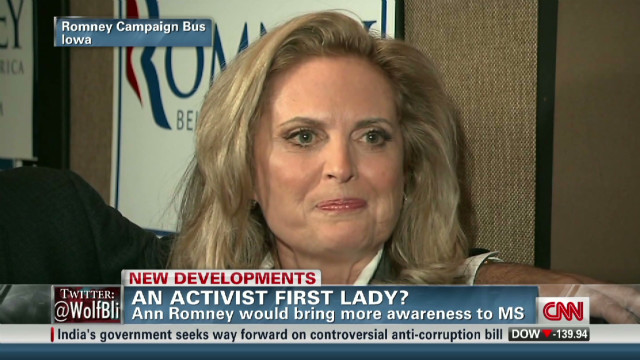 The Situation Room with Wolf Blitzer
December 28th, 2011
Romney on Gingrich: I don't know why he's so angry….
CNN's Wolf Blitzer sat down with Mitt Romney and his wife Ann Romney to talk about a wide range of issues from Mrs. Romney's health to who convinced Mitt Romney to run for president again. Highlights from the interview are after the jump.
Please credit all usage of the interview to CNN's The Situation Room with Wolf Blitzer
EMBEDDABLE VIDEO:  Romney: I would vote for Ron Paul
EMBEDDABLE VIDEO:  Romneys discuss their darkest hour

Highlight: Romney on Newt Gingrich
THIS IS A RUSH FDCH TRANSCRIPT. THIS COPY MAY NOT BE IN ITS FINAL FORM AND MAY BE UPDATED.
M. ROMNEY:  I don't know why he's so angry.  Look, this is a campaign about the things we believe in.  I believe the country's being led in a very unfortunate and destructive way by a president that doesn't really understand our economy or understand America.  I can get America working again.  That's why I'm running.
As for a one-on-one with Newt Gingrich, if he and I end up being the two finalists, why, we'll have that opportunity.  But right now, we — I don't know, have debated maybe 10 times.  We'll do more debates in January.  But until he and I really are the other two finalists, while there are other people who still deserve to be on the stage.
Ron Paul, I think, is leading here in Iowa as of today.  So the idea that this is all about Newt's or all about Mitt, is not right.  We have a field of candidates now.  I'll debate all of them.  And when it comes down to the finalists, I hope I'm one of them.  And if I am, I'll debate whoever that finalist is.
Highlight: Ann and Mitt Romney on a second presidential run
THIS IS A RUSH FDCH TRANSCRIPT. THIS COPY MAY NOT BE IN ITS FINAL FORM AND MAY BE UPDATED.
A. ROMNEY:  You know, it's funny.  This is our second time around, and the first time, at the end of the last campaign, I turned to Mitt, and I said one thing I know for certain, I'm never going to do this again.  Because it is hard.  It's hard to hear these things.  It's hard to go through this.
Mitt laughed, because he says I said that after each pregnancy and I think most people know I have five kids, so he didn't take me that seriously, maybe.  But going through it the second time gives you a different perspective.
A. ROMNEY:  You recognize — and we didn't get into this the second time without really believing that Mitt needed to actually be the President of the United States.  Running is difficult.
But we're running because we love America and because we believe America's heading in the wrong direction and because we truly believe Mitt is the right one to lead this country back to the prosperity that — and to the job creation and everything else.  So going through the process, I feel — it's funny this time.  I don't — I don't feel anything when I see those things
….
M. ROMNEY:  Yes, for me, it — Ann was convinced that I ought to run again.  She said, look, no one else can beat President Obama.  No one has the background to actually get the economy going, understand the economy in a very fundamental way.
Highlight: Ann and Mitt Romney on multiple sclerosis
THIS IS A RUSH FDCH TRANSCRIPT. THIS COPY MAY NOT BE IN ITS FINAL FORM AND MAY BE UPDATED.
ROMNEY:  Yes, and you know, I think a lot of people are aware that I have multiple sclerosis and I am bringing awareness to people that are suffering, that have difficulties in their lives, not only I think would I bring more awareness to people that have to deal with a lot in their life, but I would also love to try to move the ball forward a little bit in trying to find a cure.
….
M. ROMNEY:  The symptoms are — were, in Ann's case, similar for either one of those diseases.  And we then went into his office, and he did a series of neurological tests on Ann, had her stand on one foot and so forth, and it was clear that she didn't have feeling where she should have.  She didn't have the balance she should have had, that something was seriously wrong.
He left the room and we embraced each other.  We were very emotional.  And I said to Ann, we could — we could deal with anything as long as it's not terminal.  You know, Ann's my life.  We live for each other.  And we had a difficult time.
For us, it's been a challenge — it's been a challenge since then.  But we are very fortunate that her condition is not terminal, and that she's been able to be strong and that this trial came and we were able to confront it.
Highlight: Ronmey on the possibility of voting for Ron Paul in a 2012 general election
THIS IS A RUSH FDCH TRANSCRIPT. THIS COPY MAY NOT BE IN ITS FINAL FORM AND MAY BE UPDATED.
BLITZER:  — that Ron Paul, given what he's written presumably 20 years ago, 10 years ago, and all the positions he takes, his, you feel more comfortable with him in the White House than with Barack Obama?
M. ROMNEY:  Yes.  Yes, I've indicated that.  Again, as I recall, every Republican on that stage has been asked whether they would support whoever our nominee is, and all of us have said yes.
BLITZER:  I just want to nail that down, because that's it's news, as you well know.
M. ROMNEY:  Well, Wolf, we've had debates, and you've heard me say, you've heard Newt Gingrich say, you've had everyone on stage say the same thing, that anyone on that stage would be a better president that President Obama.  There's nothing new about that.
###