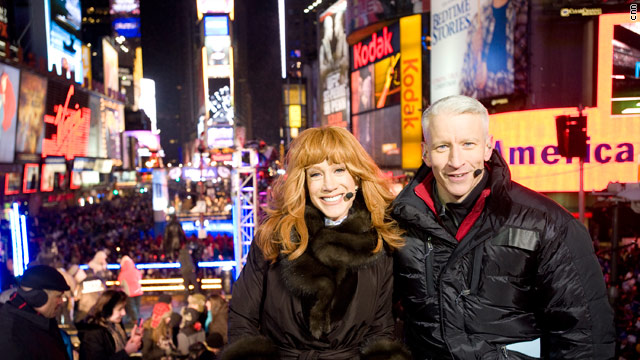 AC360
December 16th, 2011
Anderson Cooper and Kathy Griffin Co-Host CNN's New Years Eve Celebration
Anderson Cooper and Kathy Griffin will again co-host CNN's  New Year's Eve celebration on Saturday, Dec. 31, from 11 p.m. to 12:30 a.m. (ET). The odd-couple will ring in the new year for CNN's "New Year's Eve Live with Anderson Cooper and Kathy Griffin" live from NYC's Time Square.
"Get ready, America.  Pull up a chair and a box of your finest wine, because you've never seen a New Year's Eve show like this," said Griffin. "By the time I'm done with him, Anderson's hair is going to be even more gray.  In fact, the night is going to be so wild, his hair is actually going to turn brown again."
"Kathy Griffin scares me. I've said this often to CNN management directly and through my attorneys," said Cooper "She continues to appear by my side on New Year's Eve, so clearly no one is listening to me"
CNN correspondents will provide reports from celebrations across the country and around the world. Isha Sesay will join Cooper and Griffin from the crowds in Times Square and Gary Tuchman will report live from Central Park for the annual Midnight Run. Correspondent John Zarrella will be live in Key West, Florida and Brooke Baldwin from Nashville, Tennessee.   The show will simulcast on CNN International. After Anderson and Griffin sign off from Times Square at 12:30a.m. (ET) CNN's Brooke Baldwin and Marty Savidge will take over from Nashville and count down to midnight, central time.
Leading up to "New Year's Eve Live with Anderson Cooper and Kathy Griffin" will be "Best and Worst of 2011," an Anderson Cooper 360° special, which will air at 8 p.m. and 10 p.m.(ET). The special will count down to the new year by looking back at 2010, anchored by Tom Foreman, who will shine a spotlight on the highs and lows of the past twelve months in politics, pop culture, the economy, entertainment, and much more. A re-air of Piers Morgan Tonight will air at 9 p.m. (ET).