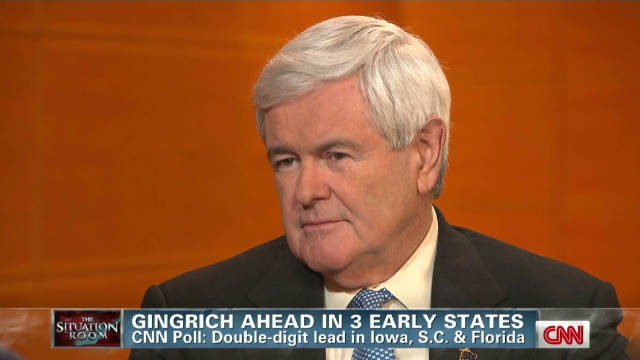 The Situation Room with Wolf Blitzer
December 7th, 2011
Gingrich: I wish everybody had loved me.
In an interview today on CNN's The Situation Room with Wolf Blitzer, GOP presidential candidate and former House Speaker Newt Gingrich spoke with Wolf Blitzer about his campaign for the White House and more. A full transcript of the interview will be posted at CNN.com and a highlight is after the jump.
Please credit all usage of the interview to CNN's The Situation Room with Wolf Blitzer
Highlight from Full Interview
THIS IS A RUSH FDCH TRANSCRIPT. THIS COPY MAY NOT BE IN ITS FINAL FORM AND MAY BE UPDATED.
WOLF BLITZER, HOST, THE SITUATION ROOM WITH WOLF BLITZER:   Mr. Speaker, thanks very much for joining us.
FORMER REP. NEWT GINGRICH (R-GA), PRESIDENTIAL CANDIDATE:  Good to be back.
BLITZER:  We got some new polls, and I know you're — you've seen those numbers and you're doing remarkably well, double-digit leads in South Carolina, in Florida, in Iowa.  You're moving up even in New Hampshire.  But your critics say you, Newt Gingrich, are fully capable of imploding, if you will, making a mistake, a blunder that could turn things around.  Are you worried about that?
GINGRICH:  Sure.  That would be a bad thing to do.  I mean, is it possible?  I guess.  On the other hand, I've had a very long career and I have a very public record.
And I think people are coming to decide that they like substance and they like somebody who actually has balanced the budget, reformed welfare, cut taxes, gotten it done for real.  So I think there's probably a little more resilience in my support than in some of the earlier folks who made a run at this.
BLITZER:  I've been surprised — and I don't know if you have been — some of the Republican Congress who worked with you in the '90s, Contract with America and the Republican Revolution.  And you know these guys like Joe Scarborough…
###