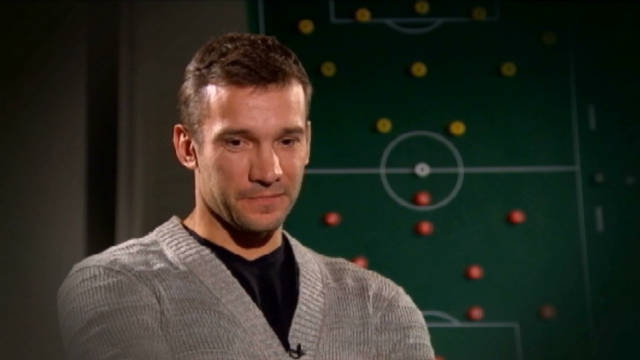 CNN
November 30th, 2011
SHEVCHENKO TELLS CNN'S PEDRO PINTO HE WANTS TO END FOOTBALL CAREER ON A HIGH AT EURO 2012
*** MANDATORY CREDIT: Pedro Pinto and CNN International World Sport *** 
This interview is part of CNN International's special preview week of in-depth coverage from Poland & Ukraine in 'World Sport' Monday 28 November to Saturday 3 December at 1700 GMT & 2230 GMT
In addition, CNN World Sport will present a half-hour special from Polandand Ukraine – 'UEFA Euro 2012: The Final Draw', which airs:
Saturday 3 December at 0830, 1730 & 2200 GMT
Sunday 4 December at 0730 GMT
Monday 5 December at 0830 GMT
Visit http://on.cnn.com/s5PEj4 for more information
View video of Shevchenko interview online: http://on.cnn.com/ty7Jdg
Transcript:
IN THEUKRAINE, ANDRIY SHEVCHENKO IS A LIVING LEGEND. THE CHAMPIONS LEAGUE AND BALLON D'OR WINNER HAS FLOWN THE FLAG FOR HIS COUNTRY ON THE BIGGEST STAGES IN WORLD FOOTBALL AND IS NOW READY FOR HIS SWAN SONG AT HOME AS HIS NATION CO-HOSTS EURO 2012.
A: The country did its best to prepare well.  I think there will be much more done to welcome the players, but most important, the fans.  From the depth of our hearts we want to show our beautiful country.
Q: What are your expectations for the team?  And how much pressure is there to play in front of the home fans?
A: Of course, it's a great responsibility, everybody expects us to demonstrate good results. It'll be a positive result for us to pass the group.  And for me personally, I dream of the final.
Q: What about you personally, what will it be like to be the captain of theUkraine and lead the team into the first game?
A: I have such experience.  It was my honour to be the captain of the team at the first match of the World Cup inGermany.  I was very nervous.  I think for me it's the last tournament I will play.  I think here, at home, at full stadiums and with the anthem ofUkraine playing it will be something extremely special for me
Q: How are you feeling right now? How's your back?
A: I am seeing a number of doctors fromGermany andUkraine, and they are helping me to extend my career and prepare for Euro 2012… I'm 100% sure this will be my last tournament as a player of the national team.  My further career will depend on how I feel. 
ANDRIY PREFERRED TO SPEAK IN RUSSIAN BUT AS THE INTERVIEWED PROGRESSED, HE ANSWERED A COUPLE OF ANSWERS IN ENGLISH. HE TOLD ME HIS CAREER HAS BEEN LIKE A DREAM COME TRUE.
A: I always had a dream to be a professional football player and when I was 14 I went to the San Siro for the first time. I told myself that one day I would have to play there and it happened. I am very proud of my career, and what I have done.
THIS INTERVIEW COMES AS PART OF A WEEK OF SPECIAL EURO 2012 DEDICATED PROGRAMMING ON CNN INTERNATIONAL, AHEAD OF THE CHAMPIONSHIP DRAW THIS FRIDAY
View video of Shevchenko interview online: http://on.cnn.com/ty7Jdg
For more information please contact:
Lara Feinstein
CNN Press Office
Europe, Middle East and Africa
Tel: +44 (0) 20 7693 0942
www.cnn.com/international