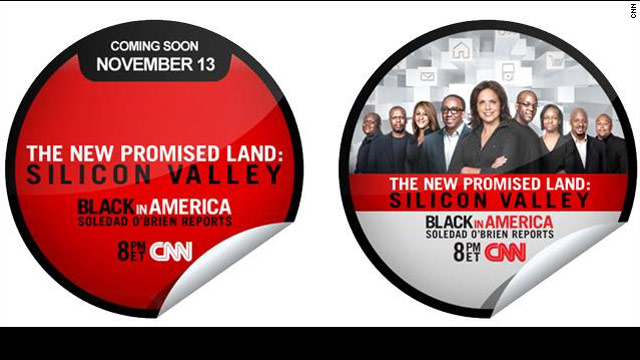 Soledad O'Brien
November 11th, 2011
'Check-in' on GetGlue for limited-edition stickers for Black in America 4.
GetGlue is offering limited-edition stickers for the next installment of CNN's Black in America.
Before the premiere of The New Promised Land: Silicon Valley on Sunday, Nov. 13, GetGlue users can 'check in' to unlock exclusive stickers.
CNN anchor and special correspondent Soledad O'Brien reports that the ownership of the digital bloom is mostly young, white, and male.  For her fourth Black in America documentary, O'Brien asks why, according to industry analyst CB Insights, less than one percent of all venture capital money went to digital startups with African-American founders in 2010 – and she profiles a unique, technology-focused "accelerator" developed to help African-American digital entrepreneurs secure funding to establish their businesses.
Black in America: The New Promised Land – Silicon Valley will debut on Sunday, Nov. 13 at 8:00p.m. ET & PT and replay on Nov. 13 at 11:00p.m. ET & PT.  It will also replay on Saturday, Nov. 19 at 8:00p.m. and 11:00p.m. ET & PT on CNN/U.S.