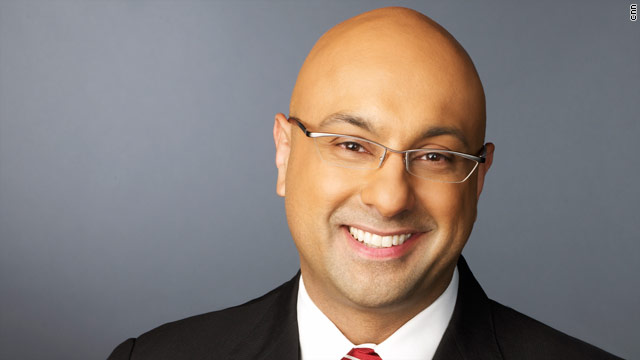 CNN International
November 3rd, 2011
Velshi Takes New Roles Across CNN Worldwide
Velshi to Launch Signature Segments on CNN/U.S. and Anchor CNN International's 'World Business Today'
CNN Chief Business Correspondent Ali Velshi is adding new roles across CNN Worldwide. Beginning next month, Velshi will provide business reporting and analysis for CNN's domestic channel, launching signature segments that will interpret and explain a top story of the day. In addition, in 2012, he becomes an anchor of CNN International's World Business Today, a daily global business news program. Velshi also continues as host of Your Money on weekends on CNN/U.S.
In Velshi's new role for CNN/U.S., he will take a look at one of the top economic, global or political stories of the day and deconstruct and translate it for viewers. Drawing upon Ali's global business news experience, this segment is geared towards breaking down for audiences some of the most complex issues of our time.
Velshi is anchoring one-hour of CNN International's World Business Today, which is broadcast live to over 200 countries across the world.
"Ali's global business expertise is an asset that we want to showcase more broadly across a range of CNN programs," said Ken Jautz, Executive Vice President, CNN/U.S. "He will help viewers understand and decode some of the most complex and important stories of the day, particularly economic and global issues."
CNN International Executive Vice President and Managing Director Tony Maddox added, "With new economic superpowers emerging across different continents, Ali brings the right mix of curiosity and business news experience to play a prominent role in reporting these crucial stories to CNN Worldwide's global audience."
Trusted for his hallmark explanations of complicated issues during the financial crisis and during times of political and economic uncertainty, Velshi will expand his now familiar role as a decoder of political and economic issues and fact-checking across CNN's U.S. and International programming. He has reported extensively on the global financial meltdown since 2008; the financial collapses of Fannie Mae, Freddie Mac, AIG and Lehman Brothers; the U.S. government's bailout plan; the battle over the fate of the American big three automakers; and the U.S. debt ceiling and budget debate.
"I'm looking forward to the daily intellectual exercise of taking the most important and intricate issues, breaking them down and providing the context necessary to help the CNN viewer make the smartest decisions they can," said Velshi.
Velshi's in-depth reporting for CNN's "How The Wheels Came Off" was honored with a National Headliner Award for Business & Consumer Reporting in 2010. He anchored CNN's breaking news coverage of the attempted terror attack on a flight into Detroit, delivering CNN's worldwide newsgathering for which the network was nominated for a 2010 Emmy. Velshi is the co-author of "How To Speak Money," which releases on November 8, 2011; and author of "Gimme My Money Back," which released in January 2009.
CNN Worldwide, a division of Turner Broadcasting System, Inc., a Time Warner Company, is the most trusted source for news and information. Its reach extends to nine cable and satellite television networks; one private place-based network; two radio networks; wireless devices around the world; CNN Digital Network, the No. 1 network of news Web sites in the United States; CNN Newsource, the world's most extensively-syndicated news service; and strategic international partnerships within both television and the digital media.
-30-
Contact:
Bridget Leininger              404 827 1621                      bridget.leininger@turner.com             @bleiningercnn
Claudia Coles                       44 207 693 0967                 claudia.coles@turner.com                    @claudiacnnpr
Chris Dwyer                          852 3128 3536                    chris.dwyer@turner.com                       @chriscnnasiapr