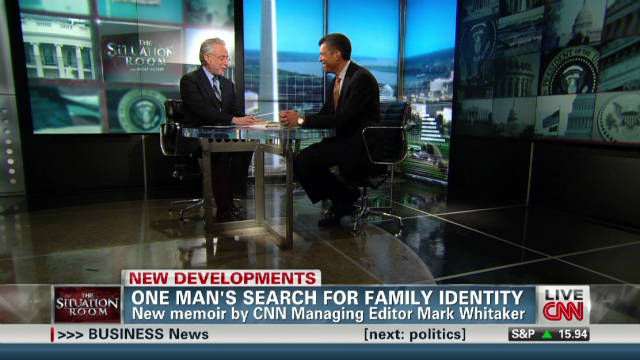 The Situation Room with Wolf Blitzer
October 24th, 2011
Mark Whitaker: One Man's Search for Family Identity
CNN managing editor talks with Wolf Blitzer about his family memoir and his bi-racial childhood struggles. A highlight from the full interview is after the jump and visit CNN.com.

Please credit all usage of the interview to CNN's The Situation Room with Wolf Blitzer
Highlight from Full Interview
THIS IS A RUSH FDCH TRANSCRIPT. THIS COPY MAY NOT BE IN ITS FINAL FORM AND MAY BE UPDATED
MARK WHITAKER, MANAGING EDITOR, CNN:  Well, Wolf, I grew up with a lot of secrets in my family.  My parents, who were an interracial couple in the 1950s, had to carry on in secret before they got married.  There were a lot of secrets involved with their divorce seven years later.  My father became an alcoholic, and there was a lot of secrecy around that.  And probably, in some ways, that was what kind of unconsciously motivated me to become a journalist.
But I spent 30 years really focusing all my efforts on reporting everybody else's story, and a year after my father died, I decided that I wanted to use some of the very same techniques that I had learned in my career in journalism to actually go back and piece together the story of their lives.
###