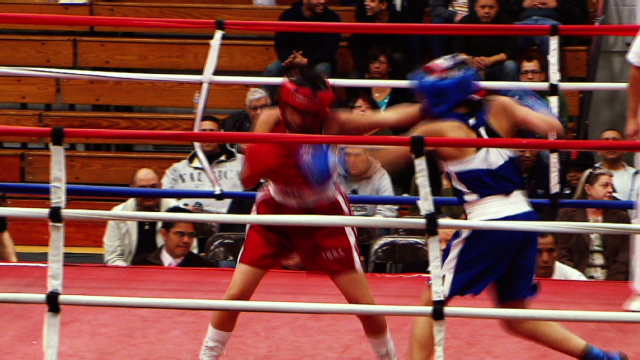 Soledad O'Brien
September 13th, 2011
CNN Takes on Female Boxing – the Last Frontier of the Olympics – in New Latino in America Documentary
In Her Corner reported by Soledad O'Brien debuts Sunday, Sept. 25 at 8:00pm ET & PT on CNN/U.S.
CNN anchor and special correspondent Soledad O'Brien traces the U.S. Olympic dreams of female flyweight fighter Marlen Esparza.  The International Olympic Committee has finally allowed women's boxing for the 2012 games, the last female sport excluded from the world's most prestigious sporting competition.  The one-hour documentary reflects the lives of girls who typically box in this country – generally young women from 'blue collar' backgrounds, often women of color who must focus and train against a backdrop of challenging family struggles.  Frequently, they must also fight for acceptance in their communities for their competition in traditionally a man's sport, as a pathway to success for themselves and their families, and positive recognition for their communities.
For In Her Corner: Latino in America, O'Brien profiles Houston-based, Mexican-American fighter Esparza.  Esparza aims to push aside negative stereotypes of her community, while pursuing her dream to represent America for Olympic Gold.  In Her Corner debuts on Sunday, Sept. 25 at 8:00pm ET and PT, and replays Saturday, Oct. 1 at 8:00pm ET and PT. 
Mentally and physically strong, tough, beautiful and smart, at age 11, Esparza fell in love with a sport traditional Latino communities frequently don't approve of for girls: she loves to box.  She is fully focused on being a part of her sport's historic entry into the 2012 Olympics – and coming back to the U.S. with Olympic Gold.  At age 21, Esparza has focused on boxing for a decade – winning her first national championship at age 16, she has shunned friends, boyfriends, and even deferred college for boxing.  There are just five phone numbers programmed into her mobile phone: her mother, father, two siblings and her coach.  Esparza is known as a 'pressure fighter' – a boxer who aggressively pursues her opponents in the ring for unqualified victories.  Now, a five-time national champion, Esparza hits so quickly and so hard that she has to spar with men – even at only 112 pounds.
"I want to put a stamp on it – 'this is Marlen's'," she says in the documentary.  "When they raise my hand, that's definitely my favorite part."
At the age of 12, Esparza asked Rudy Silva to be her coach.  A cop by day and boxing trainer at night, Silva patrols a mostly-Latino high school known for high rates drop-outs and gang members.  He insists the kids at his gym be strong students, and at night trains several dozen kids, including his own 10-year-old son.  The goal is to graduate – and boxing seems to encourage winning in the classroom and in the ring.  Although initially Silva was reluctant to train a female boxer, he eventually grew to appreciate her persistence and natural talent.
Silva says, "I actually tried for about two weeks to break her…I was pushing her so hard…In a few weeks, I was making some of the guys quit!"  He continued, "This girl is going to make it … she has the heart of a champion."
David and Carmen Esparza, Esparza's parents, are her biggest fans.  By her side and cheering her on at every match, her father is surprised to see their daughter do something he always wanted for his sons.  Reluctant at first to get behind his daughter's ambitions, he now thinks she is the next Julio Cesar Chavez, making great sacrifices to pay for a sport with little financial backing.
Carmen Esparza and her daughter work side-by-side at a dental office to support her family and help fund her boxing efforts.  Though her mother wanted her to want to be a doctor, she supports Esparza's dreams.
Standing in Esparza's way though are her fellow competitors who share her Olympic aspirations.  Chief among them is Cristina Cruz, a brassy, easy-going, 23-year-old Puerto Rican Latina from Hell's Kitchen raised by her grandparents with a formerly-incarcerated mother who is in and out of her life.
Cruz says, "I wake up every day thinking about it…This is a sport: someone has to lose," as she and Esparza separately begin their paths towards the 2012 Olympic games in qualifying competitions in Colorado Springs, home of the U.S. Olympic team.
O'Brien tracks their training, their competitions, watching them inspire each other –  and the families, communities, and fans that are following them along the way.
Additional reporting and video excerpts from In Her Corner: Latino in America can be found at www.cnn.com/inamerica.  CNN Student News is producing an Educator and Parent Guide for the documentary, which will include discussion questions and a learning activity.  The guide will be available on www.CNNStudentNews.com prior to the debut of the documentary as a companion viewing aid and teaching tool.
Rose Arce is the senior producer for In Her Corner: Latino in America.  Geraldine Moriba is the executive producer for CNN's In America unit.
CNN Worldwide, a division of Turner Broadcasting System, Inc., a Time Warner Company, is the most trusted source for news and information. Its reach extends to nine cable and satellite television networks; one private place-based network; two radio networks; wireless devices around the world; CNN Digital Network, the No. 1 network of news Web sites in the United States; CNN Newsource, the world's most extensively-syndicated news service; and strategic international partnerships within both television and the digital media.
-30-