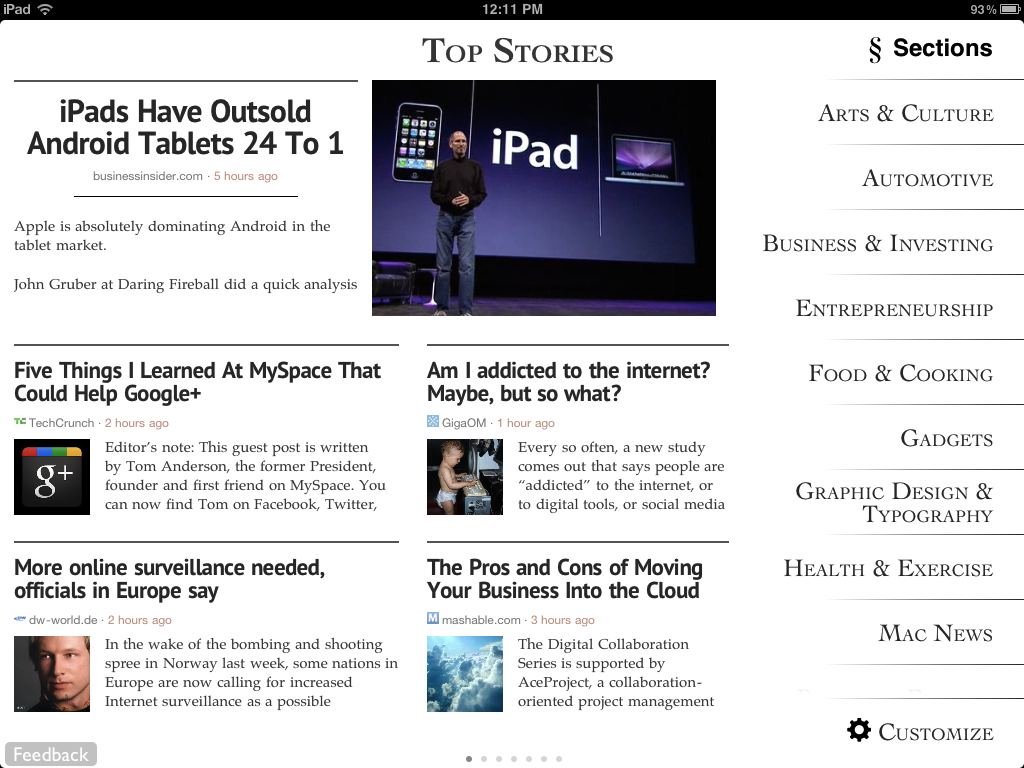 CNN Digital
August 30th, 2011
CNN Acquires Zite
CNN has acquired technology company Zite, a news app for the iPad that gives users a personalized magazine-like experience, it was announced today by Jim Walton, president of CNN Worldwide. CNN has added Zite to its already robust portfolio of digital products as a separate, stand-alone business that will continue to innovate and provide users with the news and information they want.
"Zite represents the next generation of content discovery and personalized publishing, and CNN wants to help lead in that space," said KC Estenson, general manager of CNN Digital.  "We think we can advance the industry in a meaningful way that helps content creators expand their businesses while growing the distribution of a product that people already love.  The Zite technology can also help CNN's Websites and apps serve more personalized content, making our current digital services even better."
Zite is an iPad app that leverages deeper technology to provide an individually personalized experience. Zite surfaces content to users that they will find most interesting from a variety of sources across the Web by learning users' preferences and getting smarter as it's used.
"Zite is thrilled about combining forces with CNN to create a world-class news discovery platform," said Mark Johnson, CEO of Zite.  "In CNN, we have found a partner who shares our vision and passion. Being part of the CNN family gives us the capital to grow Zite's business and continue to innovate in the space."
Johnson will continue to run Zite's day-to-day operations out of headquarters in San Francisco and will report to Estenson.  Founder Ali Davar will stay on board as Executive Director.  Mike Klass will continue to lead Zite's technology R&D as CTO.   Zite will be a wholly owned subsidiary of CNN.
Available for free on the iPad, users can download Zite from the App Store or iTunes.
About Zite:
Zite is a free, personalized iPad magazine that understands what you like and gets smarter as you use it. Zite helps you discover what you've been missing in one convenient app. Zite learns as you use it to bring you the articles you will find most interesting from a variety of sources across the web. Headquartered in San Francisco with offices in Vancouver, British Columbia, Zite is wholly-owned subsidiary of CNN. To get to know Zite, go to http://www.zite.com.
About CNN Worldwide:
CNN Worldwide, a division of Turner Broadcasting System, Inc., a Time Warner Company, is the most trusted source for news and information. Its reach extends to nine cable and satellite television networks; one private place-based network; two radio networks; mobile applications and websites around the world; CNN Digital Network, the No. 1 network of news Web sites in the United States; CNN Newsource, the world's most extensively syndicated news service; and strategic international partnerships within both television and the digital media.
-30-
CONTACT:
Erica Puntel      erica.puntel@cnn.com        CNN         404-395-6335
Julie Crabill      zite@innercirclelabs.com    Zite          408-219-5617