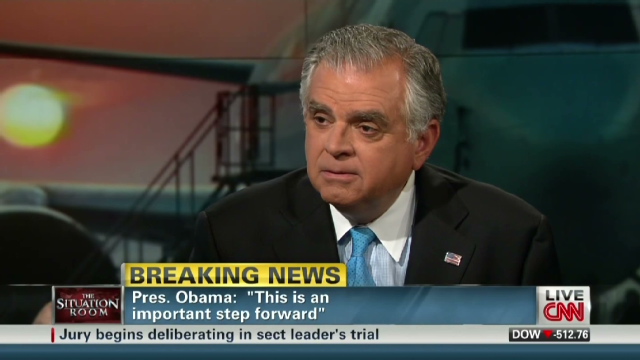 The Situation Room with Wolf Blitzer
August 4th, 2011
Transportation Secy. 'thrilled' over FAA deal
Transportation Secretary Ray LaHood talks with CNN's Wolf Blitzer about the Senate resolution to authorize FAA funding. A full transcript of The Situation Room with Wolf Blitzer is posted on CNN.com.
Please credit all usage of the interview to CNN's The Situation Room with Wolf Blitzer
Highlight from Interview
THIS IS A RUSH FDCH TRANSCRIPT. THIS COPY MAY NOT BE IN ITS FINAL FORM AND MAY BE UPDATED
WOLF BLITZER, HOST, CNN'S "THE SITUATION ROOM":  Mr. Secretary, you must be happy about this.
RAY LAHOOD, TRANSPORTATION SECRETARY:  I am thrilled.  I really am. I'm thrilled for these hardworking people right in the middle of the construction season.  They're going back to work Monday in what they want to do, earn a good wage, take care of their families and do construction jobs.  And our FAA employees are going to back to work, too.
I am very, very happy.
BLITZER:  Well, walk us through the legislative process, because the House is, for all practical purpose, not in session.  The senators have disappeared, they fled Washington.  How did they pass legislation, the president signs it in effect, and get this done within the next, what, 24-hours?
LAHOOD:  Senator Harry Reid deserves a lot of credit along with the president.  Even during debt and deficit, he told me, take care of our employees, take care of the construction workers, figure this out, get it done, and —
BLITZER:  So how do they do it legally in terms of the legislative process?
LAHOOD:  There is a provision in their adjournment resolution that lets them come in, which the Senate will do tomorrow morning, they will ask for unanimous consent to pass the House bill.  And if nobody objects, that will be the bill that passes and the president will sign it and over 70,000 people will go back to work, Wolf.  And they need these jobs, they really do.
###