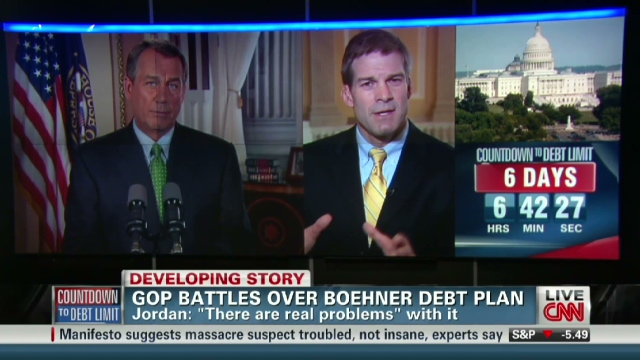 The Situation Room with Wolf Blitzer
July 26th, 2011
Rep. Jim Jordan opposes Speaker's debt plan
Rep. Jim Jordan (R-OH) told CNN's Wolf Blitzer he is opposed to Speaker John Boehner's debt relief plan and he is in favor of the "cut, cap and balance." plan. A highlight from the interview is after the jump and a full transcript is posted on CNN.com. 
Please credit all usage of the interview to CNN's The Situation Room with Wolf Blitzer
Highlight from Interview
THIS IS A RUSH FDCH TRANSCRIPT. THIS COPY MAY NOT BE IN ITS FINAL FORM AND MAY BE UPDATED
WOLF BLITZER, HOST, CNN'S "THE SITUATION ROOM": Do you trust Eric Cantor, the majority leader?  Cause he says you and your fellow Republicans who are opposing the speaker right now are just whining and not dealing with reality, the economic crisis that could develop next Tuesday.
REP. JIM JORDAN, R-OHIO:  I have great respect for Speaker Boehner and Leader Cantor.  They got a tough job.  They got to deal with the president of the United States who's spending time out there scaring senior citizens instead of reassuring the country that there will be enough money in August to take care of our bond holders, to take care of our senior citizens, to take care of our troops in the field.
So I have a great deal of respect for them.  I appreciate the fact that they fought and don't have tax increases in any of these proposals.  But we still think let's put together a plan that ultimately fixes the problem.
There's only plan on the table that would prevent the downgrade.  That's the cut, cap and balance plan.  There's only one plan on the table that has support of the American people, as evidenced by your poll.  CNN poll said 66 percent of Americans like our plan.  So why in the world would we not go with the American people on a plan they support, and frankly, a plan that fixes the problem?
You know, here's the thing Washington always misses.  Washington always wants a deal, America wants a solution.  Americans sent us here to solve problems.  Our plan solves the problem.  It's the smart thing to do.  It gives the president the debt ceiling he needs so we have time to work out of this, but it puts on us the right path by ultimately getting that balanced budget amendment sent to the states.
###
REP. JIM JORDAN, R-OHIO:  Wolf, even after paying those three that I just described, there's still money to pay other things. But the president would have to actually make some decisions. He would actually have to lead. He would actually have to prioritize, imagine that? But there's enough money in August that — that we can pay the troops, pay Social Security recipients and pay the bondholders to service the debt.
WOLF BLITZER, HOST, CNN'S "THE SITUATION ROOM": You voted last week for the proposal, the "Cut, Cap and Balance" proposal.
JORDAN: Sure did.
BLITZER: As you know, the speaker himself said on Sunday, he is ready for $800 billion in increased tax revenue as part of the deal. And he also said on Sunday that proposal that he made to the White House still is on the table. You hate that proposal, don't you?
JORDAN: Well, we're not for tax increases. And there's been no indication that that proposal is still on the table. But I —
BLITZER: He said it was on the table Sunday.
JORDAN: Yes. He said that Sunday, but there's been no indication of that this week. We're — I'm against tax increases. I think there's a huge majority of Republicans that are against tax increases. I think the American people are against raising taxes on the job creators out there.
So that — that proposal — tax increases aren't going to fly in the United States Congress.
###