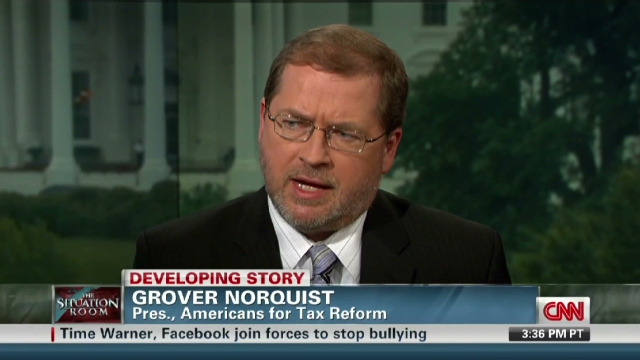 The Situation Room with Wolf Blitzer
July 13th, 2011
Grover Norquist on tax reform and debt negotiations
CNN's Wolf Blitzer sat down with the President of Americans for Tax Reform Grover Norquist about tax reform and debt negotiations.  A highlight from the interview is after the jump and a full transcript of The Situation Room with Wolf Blitzer will be posted at CNN.com.
EMBEDDABLE VIDEO: Who is Grover Norquist?

Please credit all usage of the interview to CNN's The Situation Room with Wolf Blitzer
Highlight from Interview
THIS IS A RUSH FDCH TRANSCRIPT. THIS COPY MAY NOT BE IN ITS FINAL FORM AND MAY BE UPDATED
WOLF BLITZER, HOST, CNN'S THE SITUATION ROOM WITH WOLF BLITZER:  So — so basically he's right when he says you gave them permission to vote to eliminate —
GROVER NORQUIST, PRESIDENT, AMERICANS FOR TAX REFORM:  No.
BLITZER: — the subsidies for ethanol?
NORQUIST:  No, we just made it clear that the two bills together didn't violate the pledge.  They chose, when they ran for office, to commit in writing to their constituents, not to me, to their constituents.  Here's where Bill Clinton gets it wrong.
Nobody promises me anything.  They promise, when they get elected, to the people in their state and their Congressional district, I'm not going to raise your taxes.
And there was —
BLITZER:  That's the pledge they make to the Americans for Tax Reform?
NORQUIST:  The Americans — no, to the American people.  It's the Americans for Tax Reform pledge, so that it's the same wording in all 50 states, so people know what it is.  They commit to their voters they won't raise taxes.  There was a confusion — because Coburn was trying to confuse people — as to whether this was a tax increase.  We wrote a letter saying, no, it's not.  It's not a tax increase.  So that they could be comfortable that they weren't getting tricked by Senator Coburn into a tax hike.
BLITZER:  Do you like it when people say you're one of the most powerful men in America?
NORQUIST:  It's a little bit silly.  The American taxpayers are a powerful force.  They don't want their taxes raised.  Obama and the Democrats have a fight with the American people, not with me.
###