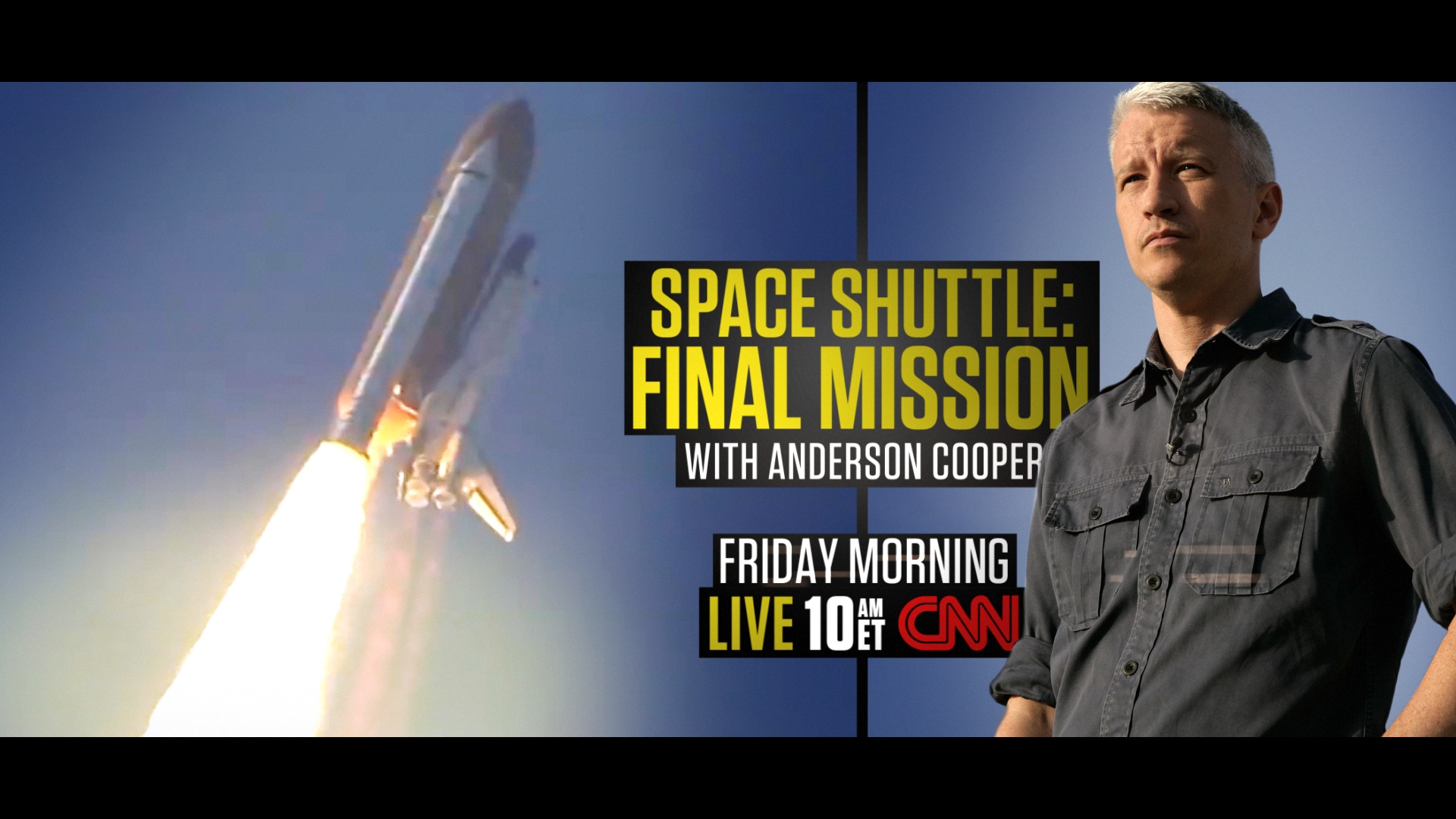 CNN
July 6th, 2011
CNN Coverage: Final Space Shuttle Launch
CNN's Special Coverage of the Final Space Shuttle Launch
Space Shuttle: Final Mission airs Friday, July 8th 10 a.m. to noon (ET)
CNN anchor Anderson Cooper will lead the network's team of reporters from Cape Canaveral, FL for the special live coverage of the final launch of the United States Space Shuttle program. Space Shuttle: Final Mission will air on CNN/U.S. and CNN International on Friday, July 8 from 10 a.m. to noon (ET). Former astronauts Cady Coleman and Senator Bill Nelson, and historian Douglas Brinkley will join CNN's coverage.
Space Shuttle Atlantis is scheduled to launch at 11:26 a.m. (ET) on Friday, July 8th.
As in the past during major news events, thousands of people in New York Times Square will be able to watch CNN's coverage of this historic moment.
More than one million spectators are expected to converge on Cape Canaveral, FL to witness the final launch. Having covered more than 80 U.S. Space Shuttle missions, correspondent John Zarrella will report from Kennedy Space Center. Anchor Ali Velshi will report for American Morning from Cape Canaveral, FL. Anchor Brooke Baldwin will be inside the Visitor Complex to gauge the excitement and nostalgia of the historic moment with spectators. Meteorologist Chad Myers will also be in the Visitor Complex providing viewers with up to the moment shuttle launch forecast. Correspondent Carol Costello will attend watch parties along the beach, capturing the celebratory mood.
CNN.com will offer comprehensive coverage of the final Shuttle launch including a live stream of the event at CNN.com/live and on the CNN Apps. The US section will also feature in-depth stories about the space program over the years as well as image galleries and interactives.
CNN iReport has asked users to submit images of their experience of Shuttle launches throughout the years, which will be presented as an interactive on the day of the final launch.
Tune in to CNN Newsroom Friday, July 8th from 10 a.m. to noon (ET) for final launch coverage. CNN Presents – Beyond Atlantis: The Next Frontier replays at 10 p.m. (ET) after the final space shuttle launch.
-30-
CONTACT:
Christal Jones 404.878.0285 christal.jones@turner.com
Eugene Sanders 404.827.3372 eugene.sanders@turner.com
Shimrit Sheetrit 310.788.6796 shimrit.sheetrit@turner.com