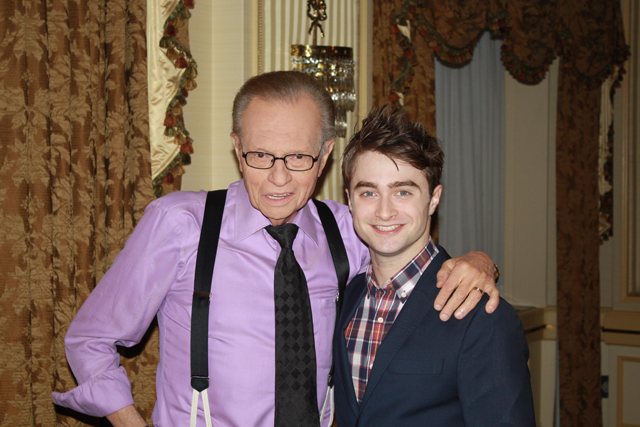 CNN
June 28th, 2011
Harry Potter: The Final Chapter airs 8pm Sunday
Larry King sits down with the cast of Harry Potter leading up to the world premiere of Harry Potter and the Deathly Hallows – Part 2. The one-hour special, airing July 10 at 8 and 11pm ET will feature interviews with Daniel Radcliffe, Emma Watson,  Rupert Grint, Tom Felton, Helena Bonham Carter and Robbie Coltrane, as well as never before seen footage from the film days before its worldwide premiere. Additionally, James and Oliver Phelps, who play the Weasley twins, take viewers on a tour of the Wizarding World of Harry Potter at the Universal Orlando Resort and interact with fans on the eve of the final Harry Potter movie. The special will also air on CNN International.
Radcliffe, calling the final Potter film a "hell of a movie," tells King that he "wept like a child on that last day" of filming.  The three main stars, who have spent half of their lives playing these characters, open up to King and reflect on the end of the series of films.  "I was so young, it's difficult to remember much of my life before this thing happened to me," Watson says.  "I was still losing my baby teeth" while playing Hermione. Grint says after 10 years of his life playing Ron Weasley, leaving the character behind was "quite a big kind of shock."
In what many predict will be the movie event of the summer, Harry Potter and the Deathly Hallows – Part 2 will mark the end the most successful film franchise in history.  The films are based on a series of seven best-selling novels, written by J.K. Rowling.  After 10 years and over six billion dollars in ticket sales, Larry King will take viewers on an exclusive tour behind the scenes and into the making of the final movie with the special effects team who brought the magical world to the big screen. Never-seen footage will give CNN viewers a new glimpse at the iconic characters and for the first time, fans will see an extended clip of the film that will be shown exclusively on CNN just days before Harry Potter and the Deathly Hallows – Part 2 opens in theatres on July 15th.  Wendy Walker is the executive producer of CNN's Larry King Specials. Harry Potter and the Deathly Hallows – Part 2 is distributed by Warner Bros. Pictures, A Warner Bros. Entertainment Company.
CNN Worldwide, a division of Turner Broadcasting System, Inc., a Time Warner Company, is the most trusted source for news and information. Its reach extends to nine cable and satellite television networks; one private place-based network; two radio networks; wireless devices around the world; CNN Digital Network, the No. 1 network of news Web sites in the United States; CNN Newsource, the world's most extensively syndicated news service; and strategic international partnerships within both television and the digital media.