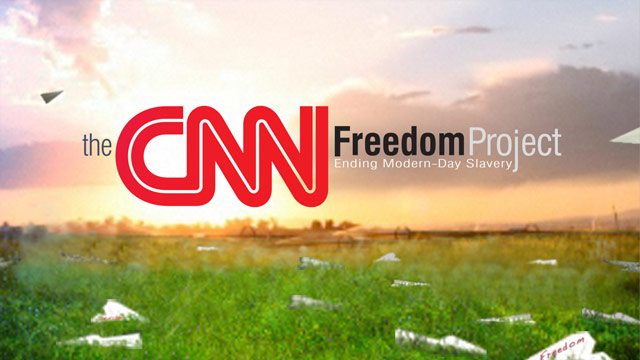 CNN Freedom Project
June 6th, 2011
'Nepal's Stolen Children' airs Sunday @ 8pm (ET)
Demi Moore Partners with the CNN Freedom Project in
Gripping Documentary Uncovering Nepal's Sex Trade
Documentary is latest in CNN Worldwide's commitment to
The CNN Freedom Project: Ending Modern-Day Slavery
Actress and anti-sex trafficking activist Demi Moore has partnered with the CNN Freedom Project to shine a light on the shocking trade of human life in 'Nepal's Stolen Children: A CNN Freedom Project Documentary', which premieres Sunday, June 26 at 8 p.m. (ET).  The premiere of 'Nepal's Stolen Children' culminates in CNN's week-long series "In Depth," focusing on CNN's reporting on modern-day slavery across all CNN networks and platforms the week of June 20th.
As a special contributor to the CNN Freedom Project, Moore heads to Nepal to join up with 2010 CNN Hero of the Year Anuradha Koirala and her organization, Maiti Nepal, which has rescued more than 12,000 stolen Nepalese children from sex trafficking since its founding in 1993.  Moore is a passionate advocate for victims of human trafficking and through DNA, the organization she co-founded with her husband, Ashton Kutcher, is outspoken about the need to address the demand side of sex trafficking through law enforcement against solicitors, and education and rehabilitation for young victims ensnared by the abusive practices.
Earlier this year, CNN announced it was marshalling its global resources to take on human trafficking with the launch of 'The CNN Freedom Project: Ending Modern-Day Slavery'.  Through this multi-platform initiative, CNN's reporting aims to expose the horrors of modern-day slavery, highlight the growing efforts to stop the trade and exploitation of human beings and amplify the voices of the victims.
"This is a multi-faceted story, but each side does not carry equal moral value. Modern day slavery is wrong. It needs to be stopped," said Tony Maddox, executive vice president and managing director of CNN International.  "CNN has committed our reporters around the world for the year to investigate an end to this global epidemic."
Each year thousands of Nepalese girls are duped into following men and women to the big city with promises of jobs, but instead they're forced into the brutal life of prostitution.  'Nepal's Stolen Children' follows Moore as she speaks with dozens of girls – some as young as 11 years old – who have been trafficked.  The girls share harrowing stories of electrocution and other means of torture, and some even describe being force-fed growth hormones to make their child-like bodies more curvaceous.
"At the brothel, I was forced to have sex with men and if I argued they would burn cigarettes on my body and beat me with a stick or spill hot water on me.  I went with my baby son, but we were separated and when he cried they burned his tongue with a cigarette," said Radika, one of the rescued girls Moore meets at Maiti Nepal.
The stigma of forced prostitution means many girls face rejection by their families.  From the capital of Kathmandu, Moore makes a six-hour journey up into the Himalaya Mountains to a height of 12,000 feet with one young woman rescued from a brothel.  Will the family welcome home – or turn their backs on – their returning daughter?  Moore also goes to Bhairahawa, which is near the Indian border and a key point of trafficking from Nepal to India, and watches Maiti Nepal's border guards take the lead in spotting traffickers.  Moore finds out first hand how and where Nepalese girls are smuggled into India for the regional sex trade.
Moore meets with Nepal's Prime Minister, Jhalanath Khanal, to discuss his country's cultural and criminal problems caused by its widespread sex trafficking.  Khanal vows to Moore that he will make efforts to tackle this issue as part of a new federal constitution in Nepal that "provides every kind of right to women."
He adds, "For a long time in Nepal, there has been a patriarchal domination – that is one of the causes that women are in their unprivileged situation right now but there is dire poverty.  Also, about 30% of our population is under dire poverty.  These are the determining factors why the women are suffering."
The Freedom Project blog will be the online hub for special coverage of 'Nepal's Stolen Children'.  Leading up to the premiere of the documentary, CNN.com will have opinion pieces on the plight of Nepalese children and sex trafficking.  The blog will also include explainers on slavery in Nepal, directing users on how to help, and videos and blog posts that highlight Koirala and Maiti Nepal.
CNN iReport will also issue the second iReport Freedom Project challenge by asking users to make paper airplanes with statistics about slavery and messages of hope for victims.  Users will also be able to check for updates across social media on the Freedom Project Facebook page or @CNNFreedom.
'Nepal's Stolen Children' airs on CNN/U.S. Sunday, June 26 at 8 p.m. and 11 p.m., and replays Monday, June 27 at 2 a.m., Saturday, July 2 at 8 p.m. and 11 p.m.; and Sunday, July 3 at 2 a.m.  The one-hour documentary premieres on CNN International Sunday, June 26 at 8 p.m. local time, and replays Saturday, July 2 at 9 a.m., 4 p.m. and 8 p.m.; and Sunday, July 3 at 5 a.m. All times Eastern.
CNN Worldwide, a division of Turner Broadcasting System, Inc., a Time Warner Company, is the most trusted source for news and information. Its reach extends to nine cable and satellite television networks; one private place-based network; two radio networks; wireless devices around the world; CNN Digital Network, the No. 1 network of news Web sites in the United States; CNN Newsource, the world's most extensively-syndicated news service; and strategic international partnerships within both television and the digital media.
Downloadable images available HERE.