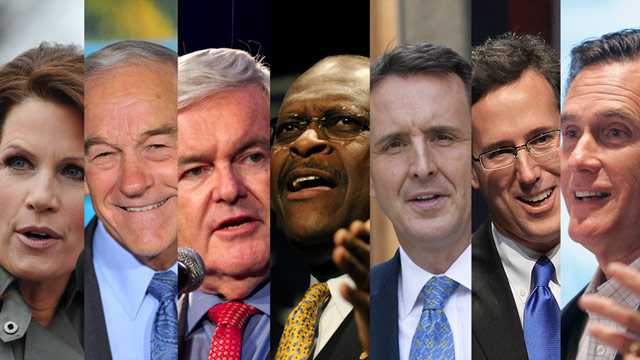 CNN Politics
June 3rd, 2011
Candidates announced for first New Hampshire GOP primary debate
Presidential Hopefuls Will Gather in the Nation's First Primary State for June 13 Debate
CNN, Hearst Television's WMUR, and the New Hampshire Union Leader will present a Republican Presidential primary debate at Saint Anselm College in Manchester, New Hampshire on Monday, June 13 at 8 p.m. ET.  It will be the first debate in the "First in the Nation" primary state of New Hampshire. CNN anchor and chief national correspondent John King will moderate the debate, with questions from WMUR-TV's Jean Mackin, Josh McElveen and Jennifer Vaughn and New Hampshire Union Leader's John DiStaso and Tom Fahey.
The following Republican candidates will participate in the debate: Minnesota Congresswoman Michele Bachmann, businessman Herman Cain, former Speaker Newt Gingrich, Texas Congressman Ron Paul, former Minnesota Governor Tim Pawlenty, former Massachusetts Governor Mitt Romney and former Pennsylvania Senator Rick Santorum.
Criteria for candidates participating in the CNN/WMUR-TV/New Hampshire Union Leader debate on June 13, 2011 can be found on CNN.com: Leading candidates set to meet in first New Hampshire debate.
CNN Worldwide, a division of Turner Broadcasting System, Inc., a Time Warner Company, is the most trusted source for news and information. Its reach extends to nine cable and satellite television networks; one private place-based network; two radio networks; wireless devices around the world; CNN Digital Network, the No. 1 network of news Web sites in the United States; CNN Newsource, the world's most extensively syndicated news service; and strategic international partnerships within both television and the digital media.