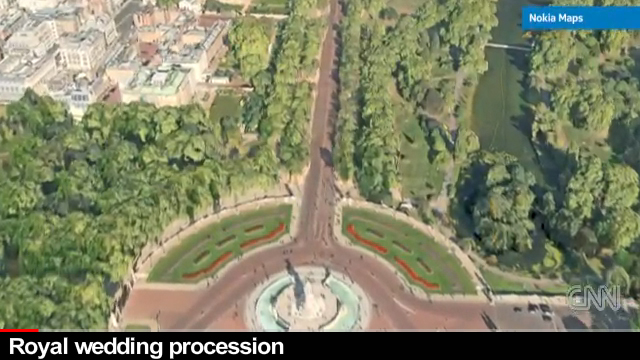 CNN International
May 26th, 2011
CNN and Nokia Announce Plans for International Partnership
CNN's news content to be supported by Nokia's mapping services
CNN and Nokia today announced a multi-level international collaboration where Nokia becomes a key part of CNN's roster of mapping providers, delivering its rich mapping services to the international news network. The collaboration harnesses the companies' strengths in global newsgathering, user-generated content, mapping technologies, and location-based services. The collaboration debuted with the use of Nokia's 3D Maps across CNN's platforms in its recent coverage of the British royal wedding.
"This collaboration is a great fit for us as both companies share a similar philosophy on connecting people beyond borders through the combination of compelling news content and highly sophisticated technology," said Tony Maddox, EVP and Managing Director, CNN International. "The international scale of each of our businesses makes the scope of the collaboration particularly exciting."
"Nokia and CNN share the belief that news is now mobile, powerfully democratic, and can immediately be shared by people around the world," said Jerri DeVard, Chief Marketing Officer, Nokia. "We are pleased that CNN wants to use Nokia's innovative mapping services for its international news platforms, and we are excited to work with CNN to deliver a compelling news service to users of Nokia phones."
The collaboration also includes the CNN App for Nokia which provides mobile access to CNN's world, business, sport, entertainment and technology reporting, as well as live streaming video. The app also allows users to share CNN's news via their own social channels, and participate in the reporting process with direct access to CNN's participatory news community, iReport. The CNN App for Nokia is available in Ovi Store.
About Nokia
At Nokia, we are committed to connecting people. We combine advanced technology with personalized services that enable people to stay close to what matters to them. Every day, more than 1.3 billion people connect to one another with a Nokia device – from mobile phones to advanced smartphones and high-performance mobile computers. Today, Nokia is integrating its devices with innovative services through Ovi (www.ovi.com), including music, maps, apps, email and more. Nokia's NAVTEQ is a leader in comprehensive digital mapping and navigation services, while Nokia Siemens Networks provides equipment, services and solutions for communications networks globally.
About CNN
Withitsstrongheritage of offering extensive coverage and analysis of international events and stories of global importance, CNN is the world'sleading global 24-hour news network celebrating more than 30 yearsat the forefront of deliveringfast, accurate, impartial news to a global audience of more than 260 million households. Withits global team of 4,000 news professionalsbasedacross 45 bureaux worldwide, CNN continues to invest in intelligent and compelling news, feature and documentary programming across its traditional and digital platforms. CNN's service continues to evolve, embracing social media, encouraging user-generated content via itscommunity site iReport and reachingits audiences in new and excitingways. CNN canbeaccessed online and on mobile devices and its distribution outletsincludeairports, hotelrooms, cruiseships and syndicated news agencies.
Media Enquiries:
Nokia Communications
Tel. +358 7180 34900
Email: press.services@nokia.com
CNN International PR
Tel: + 44 207 693 0662
Email: syreeta.clarke@turner.com