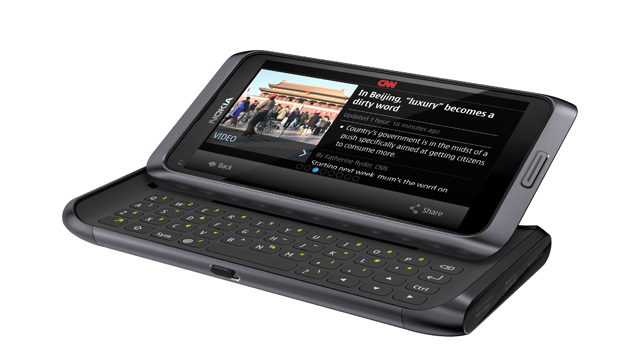 CNN Press Releases
May 17th, 2011
CNN launches app for Nokia smartphones
CNN launches international news app for Nokia smartphones on Ovi Store
Interactive app features ability to upload iReports and watch live breaking news video
CNN and Nokia today launched an international news app for Nokia E7 smartphones, available on the Ovi Store. Free of charge to users globally at launch, the CNN App for Nokia is purpose-built and designed to provide a visually-driven news experience for Nokia E7 users who demand accessibility and convenience, as well as passion for participating in the news via iReport, CNN's user-generated news community.

"As the world's largest mobile handset manufacturer, Nokia has extensive reach and scale across international markets," said Louis Gump, vice president of CNN Mobile. "Nokia users share broad interest in events around the world, and it is exciting to have the opportunity to put the power of CNN at their fingertips, and likewise, provide the chance for them to participate in the news with us through iReport."
The CNN App for Nokia provides users with one-click access to a dynamic news experience with integrated sharing functionality, delivered through sophisticated technology. The CNN App includes user-generated content upload functionality through iReport, showcases important global news through text, video and photos; and also enables users to watch live breaking news video.
The CNN App for Nokia also will be available for free in the coming weeks for the Nokia N8, Nokia C7 and Nokia C6-01, with wider availability to be announced later.
CNN App for Nokia features include:
iReport:
Provides a direct gateway to CNN's user-generated news community, iReport.
Lets users browse user-generated content; register, sign-in to their account or sign on as a guest to instantly upload photos and videos.
Users can also browse iReport's latest "international assignments," asking the community to weigh in on various news stories.
Latest Headlines:
Easy to navigate: Users can easily flick through news stories across categories including Top Stories, U.S., Africa, Asia, Europe, Latin America, Middle East, Business, Sport, Entertainment, Tech and Travel.
Easy to consume: Each story features bulleted highlights above the full article, designed to satisfy mobile "snackers," allowing them to easily scan through the latest stories.
Easy to share: Users can share stories via SMS, email, Twitter and Facebook directly from the CNN App.
Easy to view: White text on black background provides excellent viewing experience
Video: Provides users with access to live, breaking news video, as well as an extensive selection of on-demand video clips across many categories, including World, Most Popular, Sport, Business, U.S., Entertainment, Tech and CNN en Español.
The CNN App is available for free from the Ovi Store on the Nokia E7 or at http://store.ovi.com/content/121610. For more information about the CNN App, go to www.cnn.com/nokia.
CNN Worldwide, a division of Turner Broadcasting System, Inc., a Time Warner Company, is the most trusted source for news and information. Its reach extends to nine cable and satellite television networks; one private place-based network; two radio networks; wireless devices around the world; CNN Digital Network, the No. 1 network of news Web sites in the United States; CNN Newsource, the world's most extensively syndicated news service; and strategic international partnerships within both television and the digital media.
* Not available to users in Japan
###
For more information, visit http://www.CNNPressroom.com and follow @CNNpr on Twitter.
CONTACTS:
Atlanta Jen Martin jen.martin@cnn.com 404 878 2175 @jenCNNpr on Twitter
London Syreeta Clarke syreeta.clarke@cnn.com 44 207 693 0662 @syreetaCNN on Twitter
Hong Kong Evonne Inn evonne.inn@cnn.com 852 3128 3538 @cnnasiapr on Twitter