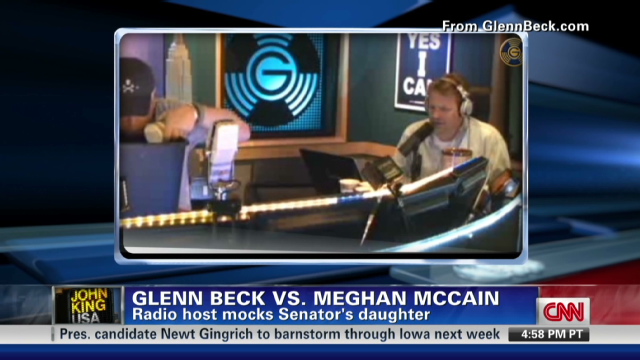 Osama bin Laden
May 12th, 2011
Sen. McCain on John King, USA
Sen. John McCain (R-AZ) talks to CNN's John King about the release of Osama bin Laden's death photos and more. This interview aired on John King, USA at 7pm ET tonight. A highlight and a video link from the interview are after the jump. A full transcript will be posted on CNN.com.
MANDATORY CREDIT: JOHN KING, USA
EMBEDDABLE VIDEO:  McCain on bin Laden photos: "No doubt"
EMBEDDABLE VIDEO: CNN's John King takes a look at Glenn Beck's controversial comments about Meghan McCain.
HIGHLIGHT FROM FULL INTERVIEW
THIS IS A RUSH FDCH TRANSCRIPT. THIS COPY MAY NOT BE IN ITS FINAL FORM AND MAY BE UPDATED.
JOHN KING, HOST, "JOHN KING USA": Because of your role as the senior Republican on the Armed Services Committee, you are among a select group of members of Congress who can, if you want to, sir, go to the CIA headquarters and look at the pictures of bin Laden to prove to yourself, if you need proof conclusively, that he is dead.
Will you take advantage of that?
SEN. JOHN MCCAIN (R), ARIZONA:  No, John.  I've lived a long life and I've — I've seen enough dead bodies and pictures of them.
KING:  And you think it would serve no purpose for yourself personally or it's just that you have no doubt, therefore why do it?
MCCAIN:  Both.  I have no doubts that this was Osama bin Laden and, in my view, there's — there's no need and I've seen enough of it.
###