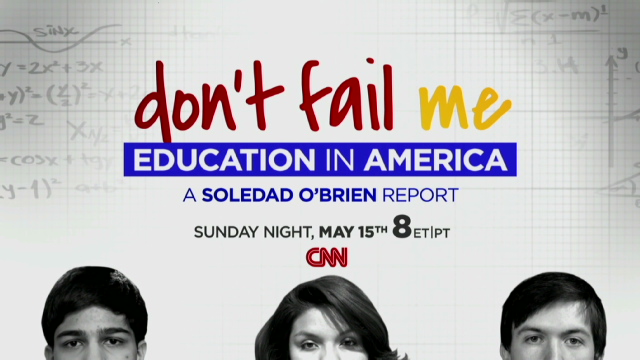 Soledad O'Brien
May 5th, 2011
Don't Fail Me: Education in America airs Sunday
Don't Fail Me: Education in America airs Sunday, May 15 at 8:00pm ET & PT on CNN/U.S.
"Everybody's expecting me to fail – even my dad," says Maria Castro, the daughter of Mexican immigrants, just one of millions of underserved students in the United States. The most recent international tests of high school students in 34 industrial countries ranked U.S.children 17th in science and 25th in math. Eighty percent of American high school seniors aren't considered proficient in science knowledge.
CNN anchor and special correspondent Soledad O'Brien reports Don't Fail Me: Education in America, a look at the human cost behind a crisis in public education, which has aligned business leaders and politicians concerned about American students not receiving the rigorous math and science education necessary to qualify them for the technology jobs that define the global 21st century marketplace. The one-hour documentary premieres Sunday, May 15 at 8:00pm ET and PT and re-airs Saturday, May 21 on CNN/U.S.
"It is amazing to me that at a time of high unemployment rates," Education Secretary Arne Duncan says, "we actually have over two million unfilled, high wage, high skilled jobs."
Ursula Burns, the CEO of Xerox Corporation can't find enough skilled engineers in the U.S. and tells O'Brien, "I'm panic stricken about it."
Don't Fail Me follows Castro and two other highly motivated high school students in a national robotics competition called FIRST Robotics, created by inventor Dean Kamen, to get kids inspired to study math and science.
In the documentary Kamen says, "If we don't generate the next group of innovators, scientists, engineers, our standard of living, our quality of life, our security will plummet."
During the competition, 2,000 teams of about 30 kids each have six weeks to build fully-functional, agile robots that zoom across playing fields to score points.  Rich, poor, good and failing schools compete all over the country culminating at one event during the last weekend in April where the best vie for the championship.  The special profiles three students from disparate backgrounds: Castro from an inner city, predominantly poor, mostly Latino high school in Phoenix; Skillman, New Jersey's Shaan Patel, a sophomore of Indian descent who attends a state of the art school in one of the wealthiest districts in the nation; and Bryan Whited, son of a widowed mother and senior at a high school in Seymour, Tennessee.
Former Governor Phil Bredesen (D-TN) says that Tennessee was "absolutely" lying to parents about how well their students were scoring on state tests. While the state was reporting over 80 percent proficiency on their tests, national tests showed only about 20 percent of eighth graders had general knowledge in math.
Castro's coach Fredi Lajvardi, or "Ledge" as the students call him, encourages his kids to dream big, be creative, and solve their own problems.  For Maria that meant pushing her Principal to offer an accelerated math class that would combine two years into one and qualify her to take calculus during her senior year.  She believes she needs at least calculus to get into her dream school, Stanford University.
Lajvardi tells O'Brien in the documentary, "What I like to think is: you decide what you're going to do. Not your condition, not your status, not your economic background, whatever, you decide what you want to do. That's what we're trying to teach them."
Additional reporting on the public education system and video excerpts from Don't Fail Me: Education in America can be found at www.cnn.com/inamerica.  CNN Student News is producing an Educator and Parent Guide for the documentary, which will include discussion questions and a learning activity.  The guide will be available on www.CNNStudentNews.com prior to the debut of the documentary as a companion viewing aid and teaching tool.
Michelle Rozsa is the senior producer, Nelli Black is producer and Alyse Shorland is field producer for Don't Fail Me: Education in America.  Geraldine Moriba is the executive producer for CNN's In America unit.
CNN Worldwide, a division of Turner Broadcasting System, Inc., a Time Warner Company, is the most trusted source for news and information. Its reach extends to nine cable and satellite television networks; one private place-based network; two radio networks; wireless devices around the world; CNN Digital Network, the No. 1 network of news Web sites in the United States; CNN Newsource, the world's most extensively-syndicated news service; and strategic international partnerships within both television and the digital media.
-30-