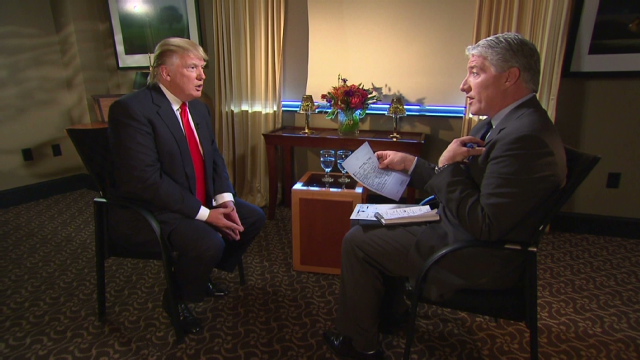 CNN
April 27th, 2011
Trump on President Obama's original birth certificate
CNN's John King spoke with Donald Trump about the release of President Obama's original birth certificate by the White House, China and more. This interview aired on John King, USA at 7pm ET tonight. A highlight from the full interview is after the jump and the program transcript is posted at CNN.com.

EMBEDDABLE VIDEO – CNN's John King talks to Donald Trump about China, U.S. leadership and a possible presidential run in 2012.
MANDATORY CREDIT: JOHN KING, USA
HIGHLIGHT FROM FULL INTERVIEW
THIS IS A RUSH FDCH TRANSCRIPT. THIS COPY MAY NOT BE IN ITS FINAL FORM AND MAY BE UPDATED.
JOHN KING, HOST, "JOHN KING USA":  You raised this —
DONALD TRUMP, CEO, TRUMP ORGANIZATION: No, no, you raised this.
KING: No, I did not raise this. I did not call the press conference in Palm Beach earlier this week —
TRUMP: Excuse me, you raised this. And every time I sit down with the press, all they want to talk about is the birth certificate. And I got him to do something that nobody else could get him to do, and I've been getting great credit for that.
KING: And you — you raised this issue of his credibility, that if he has it, he should release it.
TRUMP: Absolutely.
KING: There are people who question yours in the middle of all this. The other night, you went on "ANDERSON COOPER" and you said your investigators told you it was missing or it wasn't there.
TRUMP: Excuse me.
KING: What was that about?
TRUMP: Excuse me. Very simple. I had people looking into it. Now I don't have to have the people — I can call them back, I hope. I mean, I haven't seen this. I'm sure a lot of experts —
KING: But if – would you ever pay them – if serious people told you it was missing or not there, here it is. Here it is.
TRUMP: Would I pay them? I don't know. Maybe I'll let you negotiate for me.
(CROSSTALK)
KING: Some people think you just made that up though.
TRUMP: Let me just tell you, I don't make up anything. Let me tell you something. I have done a great service to the American people.
###