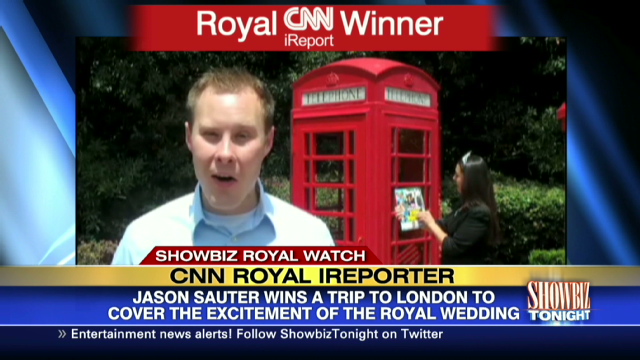 Showbiz Tonight
April 19th, 2011
Winner of Royal Wedding iReporter Contest revealed
As the countdown to the big day continues, CNN iReport, the network's global participatory news community revealed the winner of the Royal Wedding iReporter Contest, live today on HLN's Showbiz Tonight. iReporter Jason Sauter of Orlando, Florida has RSVPd to the ultimate wedding invitation, and will travel to London to join CNN's Royal Wedding hosts Piers Morgan, Anderson Cooper, Richard Quest, Kiran Chetry and special contributor Cat Deeley, noted British broadcaster and fashion expert; as well as HLN's Brooke Anderson.
Sauter's winning submission, "In the eyes of the men," argues for a reporting perspective that explores why countless women around the world dream of becoming a princess – regardless of their ages – and how the men in their lives can live up to such expectations. Sauter's girlfriend of six years, Nancy Vidarte, was his inspiration for entering the contest, and also appears in the winning iReport.
Sauter commented, "Being named the winner for the Royal Wedding iReport Contest has me so excited–this is the hottest ticket in the world right now! It will be such an amazing experience to report on history before my eyes alongside CNN, all while calming down Nancy, my girlfriend."
With more than 750,000 iReporters around the globe and an iReport submitted from every country in the world, CNN is issuing an open invitation for people to share their Royal Wedding experiences via iReport, whether they are in London or simply celebrating at home. On April 22, CNN will unveil a special Royal Wedding-themed iReport Open Story, which will feature select photos and videos from iReporters and CNN journalists, placed along an interactive timeline and map to paint a comprehensive picture of the event through the eyes of the many people who experience it. While Sauter is on the ground in London, he will have the opportunity to file iReports to be featured in the Royal Wedding iReport Open Story on CNN.com.
Between now and the Royal Wedding, viewers can see Sauter on several CNN and HLN television programs, including American Morning, and Morning Express with Robin Meade and Showbiz Tonight.
CNN Worldwide, a division of Turner Broadcasting System, Inc., a Time Warner Company, is the most trusted source for news and information. Its reach extends to nine cable and satellite television networks; one private place-based network; two radio networks; wireless devices around the world; CNN Digital Network, the No. 1 network of news Web sites in the United States; CNN Newsource, the world's most extensively syndicated news service; and strategic international partnerships within both television and the digital media.
-30-
For more information, visit http://www.CNNPressroom.com and follow @CNNpr on Twitter.
CONTACT:
Jen Martin                       CNN                       404.878.2175                     jen.martin@cnn.com