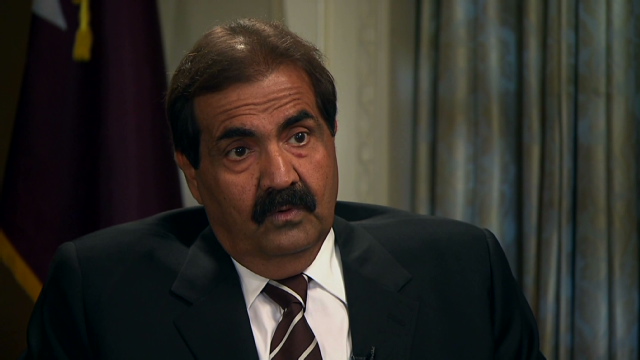 The Situation Room with Wolf Blitzer
April 14th, 2011
The Emir of Qatar on arming Libyan rebels
CNN's Wolf Blitzer spoke with the Emir of Qatar Hamad bin Khalifa al-Thani about arming rebels in Libya, the unrest in the Middle East and the Emir's meeting with President Obama. This full interview will air tonight during the 6 p.m. hour of The Situation Room with Wolf Blitzer on CNN. A highlight from the interview is after the jump and full transcript posted at CNN.com. Please credit all usage of the interview to CNN's The Situation Room with Wolf Blitzer
Highlight from Full Interview
THIS IS A RUSH FDCH TRANSCRIPT. THIS COPY MAY NOT BE IN ITS FINAL FORM AND MAY BE UPDATED.
WOLF BLITZER, HOST:  Qatar, like France, like Italy, has recognized the opposition. But are you going beyond that, because there were reports that Qatar is providing weapons to the opposition to fight Gadhafi's forces?
HAMAD BIN KHALIFA AL-THANI, EMIR OF QATAR:  We are acting according to the — to the Security Council resolution.  If it's allowed to give aid to rebellion, military, other aid, we are going to do it.
HOST:  Is it allowed by the U.N. Security Council Resolution 1973 to provide weapons to the…
AL-THANI: That's…
BLITZER:  — opposition?
AL-THANI:  That's how we understood it and that's what the foreign minister of Italy two days ago in Doha announced.
BLITZER:  So you — can you con — confirm that you're providing weapons? You're allowed to provide weapons, you say, to the opposition, but can you tell us if you are, in fact, doing that?
AL-THANI:  If they will ask for weapons, we are going to provide them.
BLITZER:  Have they asked?
AL-THANI:  Well, of course they asked, but it will take some time, some training and it depends in if we are going to push for this fast or not, because such weapons…
BLITZER:  Because…
AL-THANI:  — need a lot of training.
BLITZER:  Because, Your Highness, you know that there are reports that French-made anti-tank weapons, you've already provided to the opposition. Is that true?
AL-THANI:  It might be arrived to them during the last two days.  It's possible.
###