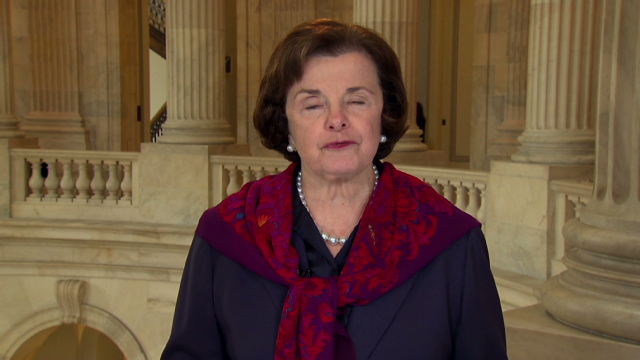 The Situation Room with Wolf Blitzer
March 31st, 2011
Sen. Feinstein on arming rebels in Libya
Senator Dianne Feinstein (D-CA), the chairwoman of the Senate Select Committee on Intelligence spoke with CNN anchor Wolf Blitzer about Libya. This full interview will air during the 6 p.m. ET hour of The Situation Room with Wolf Blitzer on CNN today.  A highlight and video from the interview are after the jump.
Please credit all usage of the interview to CNN's The Situation Room with Wolf Blitzer
Highlight from Full Interview
THIS IS A RUSH FDCH TRANSCRIPT. THIS COPY MAY NOT BE IN ITS FINAL FORM AND MAY BE UPDATED.
WOLF BLITZER, CNN ANCHOR:  How worried are you about al Qaeda elements begin part of the opposition forces in Libya?
SEN. DIANNE FEINSTEIN (D-CA), CHAIR, INTELLIGENCE COMMITTEE:  Well, I'll say this.  I've seen some reports that cause me some worry, some concern. There's no question that this call has gone out.  The question is what has actually been realized.
It's sufficient enough for me to believe in view of past history — Afghanistan, Iraq — that we should not arm the rebels.  So I —
BLITZER:  What about indirectly?  Should we encourage, should the U.S. encourage Egypt or Saudi Arabia or other countries to arm the rebels?
FEINSTEIN:  I don't know that we need to do that.  They're free countries, they will make up their own minds.
But, you know, we did in Afghanistan; we got burned by it.  We did in Iraq; we got burned by it.  In other words, those weapons cropped up later being used against us, and I don't think that's something we ought to — we ought to do.
We don't know, other than maybe a few dozen, who these people really are.  We don't know if Gadhafi goes, what they would espouse (ph).  And to arm them when the call has gone out for jihad and there is a Libyan Islamic front, I would be very reserved in that judgment.
###