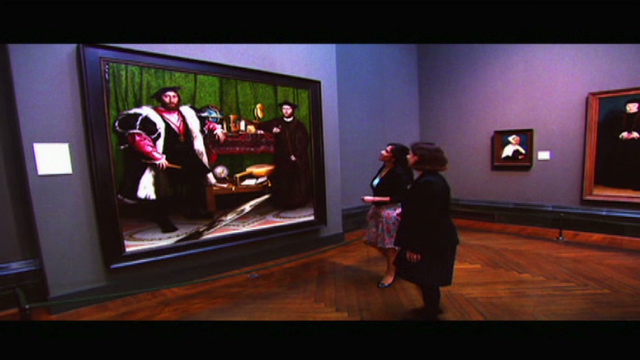 CNN International
March 31st, 2011
Jaeger-LeCoultre launches new segment sponsorship on CNN
Swiss fine watch-making brand sponsors "The Revealer" within "Backstory"
Luxury Swiss watch brand Jaeger-LeCoultre launches a sponsorship around new fortnightly segment "The Revealer" within CNN's prime time show, "Backstory", beginning March 24th. The sponsorship positions Jaeger-LeCoultre in front of CNN's upscale online and television audiences across Europe, the Middle East, Africa, Asia and the US. The campaign coincides with the 80th anniversary of Jaeger-LeCoultre's iconic swivel watch with two faces, the "Reverso".    
"The Revealer" segment takes the ethos of "Backstory" to uncover a new perspective on well known aspect of art, film, architecture, literature or fashion, which will change the way viewers perceive it.  "The Revealer" segment accesses unique insights from CNN's field news correspondents and CNN's feature show producers as they traverse the globe.
The launch of the Revealer segment will be followed by an accompanying game also sponsored by Jaeger-LeCoultre. The "Revealer" game gives clues to a hidden person, place or object, distributed throughout the week in social media and on show website CNN.com/Backstory for viewers to uncover the subject of the upcoming week's "Revealer". 
"This international cross-platform solution has audience engagement at its heart. It 's an ambitious campaign that gives Jaeger-LeCoultre the opportunity to touch CNN 's viewers via a segment that fuels our audience 's appetite for more illuminating stories," says Rani R Raad, SVP and  MD, Ad Sales and Business Development, CNN International. "Sponsoring the game, played out in social media, provides an ideal framework for repeat brand interactions with a target audience of influencers".
With "The Revealer", Jaeger-LeCoultre positions their brand around content that will capture the imagination of "Backstory's" already engaged existing community.
"We're delighted that this segment sponsorship with CNN offers such a relevant platform to celebrate the Reverso, the only watch in the world which swivels to offer a second face" says Jerome Lambert, CEO Jaeger-LeCoultre. "The Reverso was created by a small group of men with great imagination and innovative spirit who did more than creating a simple reversible case. They designed a watch with endless possibilities and began a brand phenomenon has endured throughout the last 80 years."
Jaeger-LeCoultre is utilising the expertise of Turner Commercial Productions (CNN Ad Sales' dedicated commercial production unit) in creating innovative, bespoke campaign elements. On air, the brand will sponsor opening and closing billboards around  " The Revealer " segment with Jaeger-LeCoultre branding also appearing around show vignettes. Online, Jaeger-LeCoultre will reach CNN ' s audiences across EMEA, Asia and the US through banners on the show page at www.cnn.com/backstory where Jaeger Le-Coultre will sponsor a dedicated section, "The Revealer", hosted within the "Backstory" blog.
About CNN International
With its strong heritage of offering extensive coverage and analysis of international events and stories of global importance, CNN is the world's leading global 24-hour news network celebrating more than 30 years at the forefront of delivering fast, accurate, impartial news to a global audience of more than 260 million households. With its global team of 4,000 news professionals based across 46 bureaux worldwide, CNN continues to invest in intelligent and compelling news, feature and documentary programming across its traditional and digital platforms. CNN's service continues to evolve, embracing social media, encouraging user-generated content via its community site iReport and reaching its audiences in new and exciting ways. Harnessing new technology, CNN can be accessed online and on mobile devices and its distribution outlets include airports, hotel rooms, cruise ships and syndicated news agencies.
About Jaeger-LeCoultre
A major player in watch making history since 1833, Jaeger-LeCoultre is the first manufacturer to establish themselves in the Vallée de Joux (Switzerland). It played a pioneering role by uniting the full range of horological skills under one roof and made an indelible imprint on the development of the sector by creating legendary watches such as the Reverso, the Duoplan, the Master Control, the Memovox Polaris, the Gyrotourbillon I, as well as the Atmos clock.
Guided by time-honoured know-how and a constant quest for technical enhancements, the company's master-watchmakers, engineers and technicians craft each watch in harmony with the same dedication. Each masterpiece is a result of 178 years of expertise, has been worked on by no less than 40 professionals and benefits from cutting-edge technologies while being crafted in harmony with the oldest traditions of the Vallée de Joux.
Building on a vast heritage encompassing over 1,000 calibres and over 300 registered patents, Jaeger-LeCoultre remains the standard of reference in the field of high-end watch-making.
-ENDS-