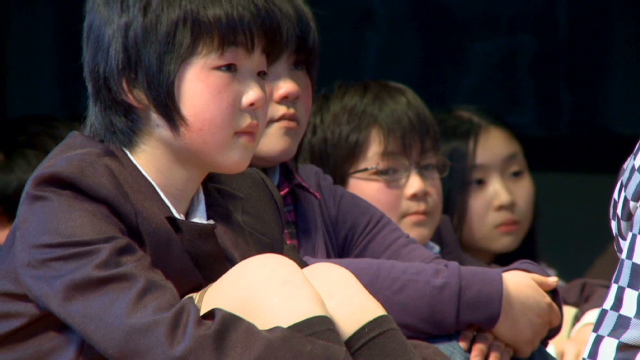 CNN International
March 31st, 2011
Japan Quake: CNN deployment and coverage details
An 9.0-magnitude earthquake hit northern Japan on Friday, March 13 triggering tsunamis and sending a massive body of water filled with debris that included boats and houses inching toward highways.
This is CNN's current deployment:
CNN's Tokyo-based correspondent Kyung Lah (@KyungLahCNN)
Paula Hancocks (@PHancocksCNN)
Martin Savidge (@MartinSavidge)
Videos:
Austere conditions for Fukushima workers
Conditions at the Fukushima nuclear plants are tough, but cleanup has to be done. CNN's Paula Hancocks reports.



Rebuilding  Sendai airport

CNN's Martin Savidge tours Japan's Sendai Airport with U.S. Air Force personnel helping to get it up and running.
Japans elderly struggle to survive
CNN's Kyung Lah reports from Kamaishi, Japan, where the elderly are struggling to survive with few resources.

Articles:
Power restored to Japanese reactor's control room, officials say
By the CNN Wire StaffMarch 22, 2011 — Updated 1637 GMT (0037 HKT)
http://edition.cnn.com/2011/WORLD/asiapcf/03/22/japan.nuclear.reactors/index.html?hpt=T2
The status of six reactors at the Fukushima Daiichi nuclear plant
By the CNN Wire StaffMarch 22, 2011 — Updated 1302 GMT (2102 HKT)
http://edition.cnn.com/2011/WORLD/asiapcf/03/22/japan.reactors.status/index.html
U.S. continues to evacuate military family members from Japan
By Laurie Ure, CNN National Security ProducerMarch 22, 2011 — Updated 0137 GMT (0937 HKT)
http://edition.cnn.com/2011/US/03/21/military.families.evacuate/index.html
American teacher found dead in JapanSee show times
By the CNN Wire Staff March 22, 2011 — Updated 1456 GMT (2256 HKT)
http://edition.cnn.com/2011/WORLD/asiapcf/03/21/japan.disaster.us.death/index.html