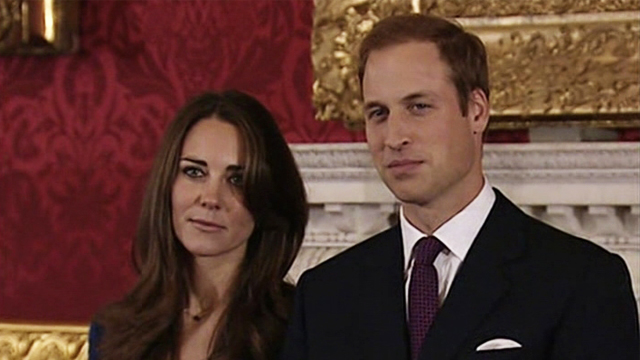 CNN International
March 30th, 2011
CNN's Royal Wedding coverage plans
CNN to provide global, multi-platform coverage of the Royal Wedding of Prince William and Kate Middleton
Piers Morgan, Anderson Cooper, Richard Quest, Kiran Chetry, joined by Cat Deeley, Will Host CNN Coverage
CNN to send U.S.-based iReporter to Cover Royal Wedding
Live from London, CNN will globally televise the biggest royal wedding event since Charles married Diana – from the ceremonial to the personal, from what is happening at Westminster Abbey to the reactions of those around the world.
On the day of the wedding, Friday, April 29, beginning at 4 a.m. ET, CNN's special live program will be anchored by Piers Morgan, Richard Quest, Anderson Cooper, Kiran Chetry and special contributor Cat Deeley, noted British broadcaster and fashion expert, across CNN/U.S. and CNN International. CNN will live stream various angles of the day's events on CNN.com, including views from inside the Abbey as well as the parade, via the CNN Apps for iPhone and iPod touch, iPad and Android tablet.
Leading up to the big day, Piers Morgan and Anderson Cooper will anchor their nightly programs from London.  CNN will also broadcast a documentary on Catherine Middleton anchored by Soledad O'Brien, as well as weekly special reports from Richard Quest, among others.  Highlights of CNN's Royal Wedding coverage include:
• Premiering Saturday, April 2 at 2 p.m. and 10 p.m. ET: Richard Quest will anchor four half hour specials throughout the month of April.  A Royal Wedding will air Saturdays at 2 p.m. and 10 p.m. ET on CNN/U.S. and CNN International.
• Sunday, April 24 at 8 p.m., 11 p.m. and 2 a.m. ET: CNN/U.S. will premiere The Women Who Would be Queen, a look at the life of Catherine Middleton, the woman who will someday become Queen of the United Kingdom.  Featured in the documentary are Jules Knight, close friend of the couple from the origins of their fairytale romance during their university days at St. Andrews, and Arthur Edwards, longtime royal photographer, who has chronicled the princes' entire lives during his 30-year career at England's The Sun newspaper.  Edwards has captured the princes' childhoods, how they've coped with the tragic loss of their mother, and their transition into manhood.  The documentary also explores the ways in which the future King and Queen have honored the life and legacy of Diana, Princess of Wales.  CNN Presents: The Women Who Would be Queen is reported by anchor and special correspondent Soledad O'Brien.  The documentary will debut on CNN International on Saturday, April 23 at 8 p.m. ET and replay on CNN/U.S. on Saturday, April 30 at 8 p.m., 11 p.m., and 2 a.m. ET.
• Monday, April 25 – Friday, April 29: Piers Morgan will broadcast his nightly show Piers Morgan Tonight at 9 p.m. ET from London with a mix of topical guests and newsmakers on both CNN/U.S. and CNN International.
• Monday, April 25 – Friday, April 29: Kiran Chetry will co-anchor American Morning 6-9 a.m. ET live from London for CNN/U.S.
• Wednesday, April 27 – Friday, April 29: Anderson Cooper will anchor Anderson Cooper 360, also live from London, at 10 p.m. ET on CNN/U.S. and CNN International.
Additionally, CNN International will feature live programming from location with Richard Quest for Quest Means Business and Connect the World with Becky Anderson, while HLN's Brooke Anderson will co-anchor Showbiz Tonight from London. Glenda Umana and Marta Altoona will provide coverage for CNN en Español.  John Sepulvedo will report from London for CNN Radio.
"Calling upon their years of interviews with the Royal Family, Piers and Richard will share their knowledge and insights across CNN.  Along with CNN's user-generated community of iReporters, CNN is uniquely positioned to share a first-hand account of the Royal Wedding across our networks and platforms," said Tony Maddox, executive vice president and managing director of newsgathering for CNN Worldwide.
For those away from the TV screen, CNN has launched The Wedding Planner, a special section at www.cnn.com/wedding that includes explainers, profiles, photo galleries, on-demand video from CNN's reporting on the topic, and exclusive content from CNN's royal reporting team. Additionally, CNN has launched Unveiled, a blog covering all the chatty details that St. James' palace isn't commenting on – from the great dress mystery to the official iTunes release of the wedding vows, available at www.cnn.com/unveiled.
CNN iReport, the network's participatory news community which has received a submission from every country on the planet, will contribute to CNN's coverage of the pending nuptials in a wide variety of ways, including:
Royal Wedding iReporter Contest: On April 11, CNN will announce the name of one lucky U.S.-based iReporter that will be sent to London to cover the wedding. iReporters can go to http://ireport.cnn.com/ir-topic-stories.jspa?topicId=572959, to submit a 90-second video explaining why they should be chosen;
Royal Wedding assignments – Beginning on April 22, iReport also will invite people to share their experience and take the visual pulse of the audience through a series of lighthearted and fun assignments, such as calls for photos or videos of a proper English breakfast, fashionably over-the-top hats and instant reaction to the bride's wedding dress; and
CNN iReport Open Story: Royal Wedding – Also on April 22, CNN will reveal its Royal Wedding-themed iReport Open Story, which feature select photos and videos from iReporters and CNN journalists, placed along an interactive timeline and map to paint a comprehensive picture of the event through the eyes of the many people who experience it.
On social media, people also can stay informed of all aspects of CNN's coverage leading up to and during the event via the CNN Royal Wedding fan page on Facebook; and @royalweddingcnn on Twitter.
CNN Worldwide, a division of Turner Broadcasting System, Inc., a Time Warner Company, is the most trusted source for news and information. Its reach extends to nine cable and satellite television networks; one private place-based network; two radio networks; wireless devices around the world; CNN Digital Network, the No. 1 network of news Web sites in the United States; CNN Newsource, the world's most extensively-syndicated news service; and strategic international partnerships within both television and the digital media.
-30-
Contact:
Bridget Leininger                 404.827.1621                          bridget.leininger@turner.com
Jennifer Martin                     404.878.2175                          jennifer.martin@turner.com