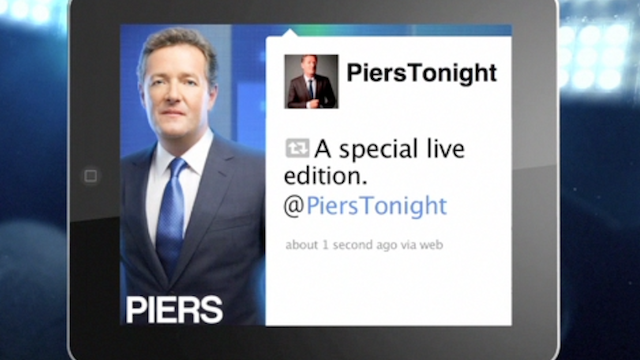 Social Media
March 29th, 2011
Twitter founders on special edition of Piers Morgan Tonight
Hundreds of millions of people around the world use Twitter – to talk, to learn, to interact. But what is the appeal? Tune in at 9p ET for a live, interactive, special edition of "Piers Morgan Tonight," when Piers Morgan interviews Biz Stone and Jack Dorsey, the two founders of the sky-rocketing service, in front of a live studio audience.
Additionally, several celebrities – including Martha Stewart and Alyssa Milano, award-winning journalist Nick Kristof, and rising star politician Cory Booker – will be guests on tonight's show to talk about why they have embraced Twitter.
Twitter users also can participate in tonight's show by using the hashtags #Piers and #OnlyOnTwitter (to tell something that could have ONLY happened on Twitter), or just tweet about @PiersMorgan, @PiersTonight or something you see from one of the guests. The PMT team will incorporate your questions and comments throughout the show – the first fully-interactive cable news experience.
Tune in live at 9pmET (and repeated at MidnightET) and, of course, follow Piers and the show on Twitter.
For more about tonight's show and Piers' self-proclaimed Twitter addiciton, check out the show's blog.