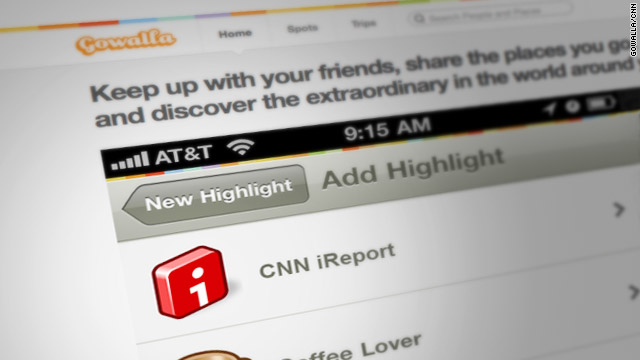 SXSW
March 10th, 2011
CNN iReport 'Highlight' Added to Check-ins on Gowalla
New CNN iReport 'Highlights' feature enables users to report on news events directly from Gowalla
CNN iReport, the user-generated news community, is teaming up with Gowalla, a social travel guide for people on the go, to enable the social network's users to post and share news about their locations through iReport. CNN iReport has received video submissions from every country on the globe, from more than 740,000 CNN iReporters, making it a logical partner for a location based service.
Gowalla has added a new 'CNN iReport' option to its 'Highlights' feature, which invites users to  tell a story about places that are special to them. When Gowalla Passport Holders add a CNN iReport highlight, the message will be automatically uploaded to CNN iReport. Via Gowalla, users can also share their CNN iReport highlights on other social platforms like Facebook, Twitter and Tumblr.
"Opening up iReport to the Gowalla community is an exciting step for participatory journalism," said Lila King, participation director for CNN.com. "By bringing the power of location services to our iReport community, we are connecting our audience to the precise places where news events are happening."
iReport highlights from Gowalla also have the potential to be vetted by CNN producers for inclusion in the network's reporting on a story or event. Additionally, Gowalla users whose iReport highlights are approved by CNN will have a custom CNN iReport Pin added to their Gowalla Passports. More information about the CNN iReport Highlight on Gowalla can be found at http://www.cnnireport.com/gowalla or http://www.gowalla.com/cnnireport.
CNN Worldwide, a division of Turner Broadcasting System, Inc., a Time Warner Company, is the most trusted source for news and information. Its reach extends to nine cable and satellite television networks; one private place-based network; two radio networks; wireless devices around the world; CNN Digital Network, the No. 1 network of news Web sites in the United States; CNN Newsource, the world's most extensively syndicated news service; and strategic international partnerships within both television and the digital media.
For more information, visit http://www.CNNPressroom.com and follow @CNNpr on Twitter.
Contact:
April Andrews        april.andrews@cnn.com        @aprilCNNpr        404.878.5017