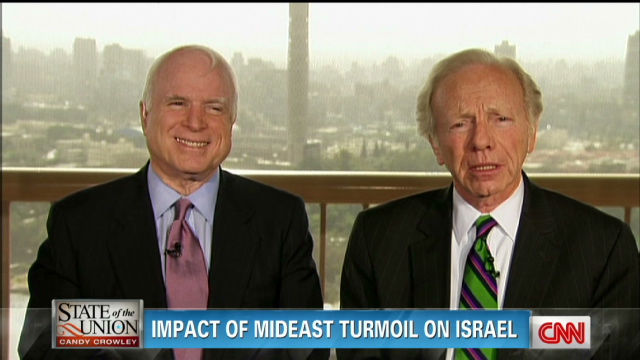 CNN
February 27th, 2011
Sens. McCain, Lieberman critical of Obama over Libya
(CNN) – Two leading U.S. senators were both critical Sunday of President Barack Obama's delay in speaking out over the uprising in Libya.
Sen. John McCain of Arizona, the ranking Republican on the Senate Armed Services Committee, said Obama should "stand up for democracy" and noted that the British prime minister and French president were not hesitant to address the crisis.
"America leads," McCain told CNN's "State of the Union" from Cairo. "They're looking to America for leadership, for assistance, for moral support and ratification of the sacrifices they've made in the defense of democracy. America should lead."
Anti-government protests continued Sunday in Libya, where the nation's leader of more than 40 years, Moammar Gadhafi, clings to power in Tripoli after weeks of protests.
On the same program, Sen. Joseph Lieberman of Connecticut, in independent who caucuses with the Democrats and chairs the Senate Committee on Homeland Security and Governmental Affairs, said he understood why the administration initially hesitated in speaking out on the crisis in Libya due to concerns about the safety of U.S. citizens there.
"Frankly I wish we had spoken out much more clearly and early against the Gadhafi regime," Lieberman said, adding "the fact is now is the time for action, not just statements."
On Saturday, Obama said Gadhafi "has lost the legitimacy to rule and needs to do what is right for his country by leaving now." Secretary of State Hillary Clinton also issued a statement urging the Libyan leader to step down.
Lieberman said he hoped that new sanctions imposed by the United Nations and the United States are successful, and that the U.S. should aid opposition forces in Libya if they are unable to end the Gadhafi regime on their own.
McCain predicted the end of the Gadhafi's rule.
"I think his days are numbered," McCain said. "The question is how many people are going to be massacred between now and when he leaves. We ought to shorten that time frame as much as possible, and I believe we can."
McCain said the United States should help impose a no-fly zone to prevent government aircraft from attacking the Libyan people and should also recognize a provisional government in the east, where anti-Gadhafi forces hold power.
In addition, McCain said, Washington should make clear that Libyan officials involved in attacks on their own people would face war crimes prosecution.
"Get tough," McCain said. However, he stopped short of advocating that U.S. ground forces enter Libya to help oust Gadhafi. Instead, the United States should supply and equip a provisional government, McCain said.
– CNN's Tom Cohen contributed to this report
Watch State of the Union with Candy Crowley Sundays at 9am ET. For the latest from State of the Union click here.