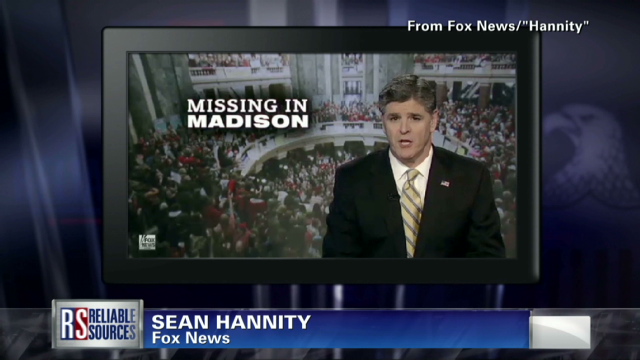 Reliable Sources
February 27th, 2011
Reliable Sources – Full transcript and embeddable video
Highlights, embeddable video and the full transcript from CNN's Reliable Sources, hosted by Howard Kurtz, are after the jump.  Reliable Sources airs Sundays, 11 a.m. to noon (ET).
Credit all usage to CNN's "Reliable Sources"
HIGHLIGHTS
Radio host Amy Holmes on the Buffalo blogger who lied to get Wisconsin Gov. Scott Walker on the phone:
"You didn't see the hand-wringing over journalistic ethics like you did, say, in the ACORN case…It was, like, he's a hero."
EMBEDDABLE VIDEO: Networks takes sides in Wisconsin
——-
Politifact Editor Bill Adair, responding to Rachel Maddow's criticism of his group labeling her comments on the Wisconsin budget crisis false:
"She played a nine-word clip without putting it in context."
——-
Former NBC newsman Fred Francis on the article alleging a military unit used psy-ops techniques on visiting dignitaries:
"This is another assassination story, another assassination piece by Michael Hastings and Rolling Stone."
——-
Author Siva Vaidhyanathan:
"The biggest threat in journalism is actually the Huffington Post, because it's actually taking and attracting attention for its advertisers and repositioning the work done by local news organizations."
EMBEDDABLE VIDEO: New book says Google is too powerful
——-
Media Monitor featured the New York Times, Washington Post, AP, MSNBC's Dylan Ratigan, Bill O'Reilly, CNN and the Wall Street Journal.