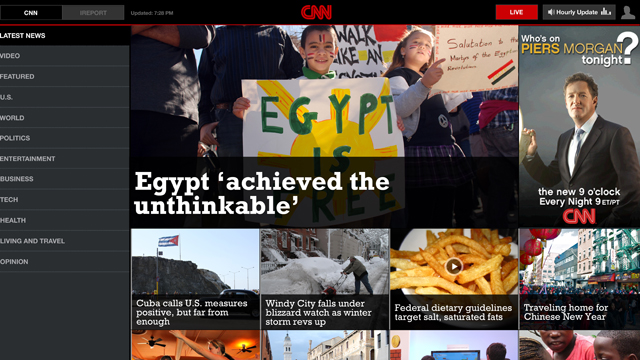 iReport
February 24th, 2011
CNN launches app on Android's Honeycomb tablet platform
iReport capture and upload available for the first time on a tablet; App includes live video, widgets
CNN today announced that its CNN App for Android's Honeycomb tablet platform is available for free on Android Market™ in the U.S.  The CNN App launches in conjunction with the commercial availability of the Android 3.0, Honeycomb platform on the Motorola Xoom tablet, and is the first time that CNN iReport, the network's user-generated news community, is available in a tablet application.
"Wherever consumers are, we want to present them with CNN's original, enterprise reporting, as well as the ability to interact with and participate in the news – and in an application that is complementary but unique to CNN's other platforms," said Louis Gump, vice president of Mobile at CNN. "The CNN App will expose tablet users to the best submissions from our hundreds of thousands of iReporters across the globe, as well as enable them to submit their own iReports and participate along with us."
Maximizing the features of Android 3.0, Honeycomb, the CNN App for Android showcases a left-rail navigation in the Broadsheet view, allowing a user to swipe through the latest news stories in a grid-format featuring powerful imagery and headlines.
The CNN App also provides a direct gateway to CNN iReport, available for the first time on a tablet app.  Users can browse user-generated content; register, sign in to their account or sign on as a guest to capture and instantly upload photos and videos (through the front and rear cameras).  The App also showcases iReport's latest "assignments," which ask the community to weigh in on specific news stories that CNN is covering.
Users have the ability to toggle between U.S. and International news preferences, both of which serve live video of breaking news and select events as they happen, as well as hourly audio news updates from CNN Radio while in the U.S. view.
The App includes the ability for users to comment alongside content on the screen or share text stories and images from the App via email, Facebook and Twitter.  Users can also flip through story headlines and images directly on their home screen by accessing the App's layered image widget.
The CNN App for Android is available on Android Market.  For more information about the CNN App for Android, go to www.cnn.com/android.
CNN Worldwide, a division of Turner Broadcasting System, Inc., a Time Warner Company, is the most trusted source for news and information. Its reach extends to nine cable and satellite television networks; one private place-based network; two radio networks; mobile applications and websites around the world; CNN Digital Network, the No. 1 network of news Web sites in the United States; CNN Newsource, the world's most extensively syndicated news service; and strategic international partnerships within both television and the digital media.
###
Images: Please credit CNN
*CNN App for Android's Broadsheet View
*CNN App for Android's Commenting Feature

*CNN App for Android's iReport Feature
See Earlier Info on CNN App for Android
**Android and Android Market are trademarks of Google, Inc.