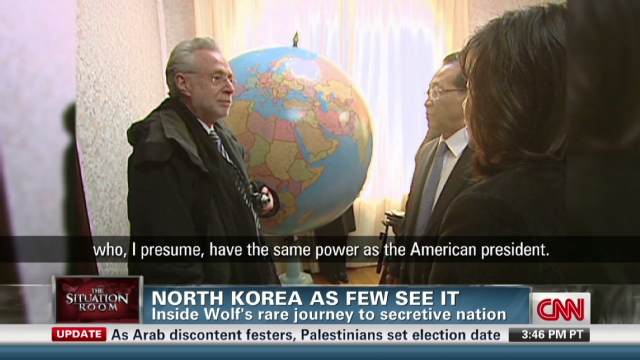 CNN International
February 18th, 2011
CNN's Wolf Blitzer Takes Viewers Inside Communist North Korea
CNN will air a one-hour program Six Days in North Korea: Situation Room Reporter's Notebook on Saturday, Feb. 19 at 6 p.m. CNN lead political anchor Wolf Blitzer entered North Korea as the world watched tensions mount between North and South Korea. Blitzer was the only broadcast journalist to join former Gov. Bill Richardson and his delegation.
Read the full release after the jump.
This program will take viewers into the communist, totalitarian regime of North Korea with footage from the rarely-seen streets of Pyongyang and inside government meetings. In addition, Blitzer was able to visit Kim II-sung University and capture rare moments with North Koreans.
The special will also air on CNNI at 10 p.m., Saturday, Feb. 19.
Blitzer is CNN's anchor of The Situation Room with Wolf Blitzer which airs every weekday 5-7 p.m. and on Saturday evenings 6-7 p.m.
CNN Worldwide, a division of Turner Broadcasting System, Inc., a Time Warner Company, is the most trusted source for news and information. Its reach extends to nine cable and satellite television networks; one private place-based network; two radio networks; wireless devices around the world; CNN Digital Network, the No. 1 network of news Web sites in the United States; CNN Newsource, the world's most extensively syndicated news service; and strategic international partnerships within both television and the digital media.

All Times Eastern